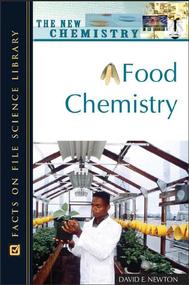 Facts On File Food Chemistry is written by David E. Newton and published by Facts On File, Inc. in 2007. Over the past two centuries, chemists have continued to push forward the frontiers of food design and development. Today, virtually every technique that is available to the industrial or research chemist is employed by the food chemist to modify the composition of natural foods or even to create new foods with no counterpart in the real world. One of the great challenges for consumers in the 21st century is to learn more about and decide how to use the host of synthetic and semisynthetic foods now available to them.
The involvement of chemists in food modification practices is a double-edged sword. For all the improvements it may have produced in the diet available to humans, the chemical modification of foods has raised many questions about safety and benefits. Are processed foods really equivalent or preferable to natural foods? Are the processes by which food is modifi ed relatively safe, or do they carry significant risks for the consumer? Are there limits to the ways in which food can and should be modifi ed? Questions such as these have become part of the daily dialogue of concerned consumers.
They are the focus of this book.
Table

of Contents
The History of Food Modification
Food Additives
Synthetic Foods
Genetically Modified Foods
Food-Borne Illnesses and Irradiation of Foods
Organic and Natural Foods
Conclusion
Free download Facts On File Food Chemistry By David E. Newton in pdf from following external download link.
File Size: 2.4 MB, Pages: 225. Kindly read Disclaimer.
Download

Instructions

After opening of download link press ctrl + S to save this book.