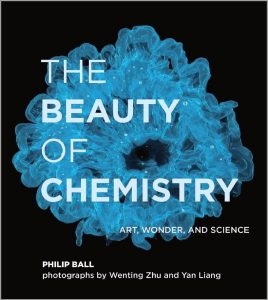 Free download The Beauty of Chemistry: Art, Wonder, and Science written by Philip Ball in pdf.
Images and text capture the astonishing beauty of the chemical processes that create snowflakes, bubbles, flames, and other wonders of nature.
Chemistry is not just about microscopic atoms doing inscrutable things; it is the process that makes flowers and galaxies. We rely on it for bread-baking, vegetable-growing, and producing the materials of daily life. In stunning images and illuminating text, this book captures chemistry as it unfolds.
Using such techniques as microphotography, time-lapse photography, and infrared thermal imaging, The Beauty of Chemistry shows us how chemistry underpins the formation of snowflakes, the science of champagne, the colors of flowers, and other wonders of nature and technology. We see the marvelous configurations of chemical gardens; the amazing transformations of evaporation, distillation, and precipitation; heat made visible; and more.
As per a reader review, "I've enjoyed most of Philip Ball's books. He is an author that besides knowledgeable, has a style that makes his books quite enjoyable. I'm a chemist, and I was looking for a book with plenty of beautiful pictures, but I got so much more. His texts, anecdotes, the explanations make this book an advantageous and enjoyable experience.
The photographs by Wenting Zhu and Yan Liang are magnificent. After his books, on Patterns and also, on Colors, I was expecting more of that. However, this new book is quite original in the selection of subjects; ten chapters with new scopes on very actual phenomena. If you didn't like Chemistry during your schooling this book is going to open your eyes to the beauty of this discipline. It brings the mesmerizing beauty of the chemical reactions happening on a daily basis around you. If you love Chemistry, you don't have to hesitate about getting this book and discover much more than what you are expecting."
Con

tents
Elemental: The Charisma of Chemistry
Effervescent: The Beauty of Bubbles
Orderly: The Charm of Crystals
Insoluble: The Power of Precipitation
Exuberant: The Delight of Dendritic Growth
Incendiary: The Fascination of Flames
Galvanizing: The Enchantment of Electrochemistry
Chromatic: The Curiosity of Color Changes In Plants
Calescent: The Helpfulness of Heat
Organic: The Contortions of Chemical Gardens
Creative: The Profusion of Patterns
Postscript: Art, Wonder, And Science
Free download The Beauty of Chemistry: Art, Wonder, and Science written by Philip Ball in pdf from following download links.
Kindly follow the instructions to unlock the download link(s). Sometime download link(s) is/are not visible on mobile devices, so if you face this issue, kindly do visit this page via laptop/desktop computer.
Password for Download Links: chemistry.com.pk
File Size: 65.6 MB. Pages: 391. Download Instructions. Kindly read the disclaimer.
You may also like to free download
Free Download Hundreds of Best-Selling Chemistry Books from HERE.
P.S: If the download link(s) is/are not working, kindly drop a comment below, so we'll update the download link for you.
Happy downloading!