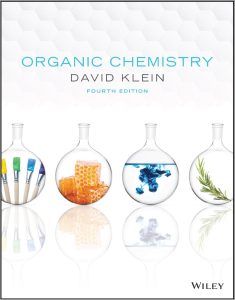 Free download Organic Chemistry (4th edition) written by David R. Klein in pdf.
Peer review played a very strong role in the development of the first, second, and third editions of Organic Chemistry. For each edition, the manuscript was reviewed by several hundred professors and several thousand students. In preparing the fourth edition, peer review has played an equally prominent role. We have received a tremendous amount of input from the market, including surveys, class tests, diary reviews, and phone interviews. All of this input has been carefully culled and has been instrumental in identifying the focus of the fourth edition.
New Features in the Fourth Edition
Treatment of synthesis was strengthened throughout the text, with a greater focus on retrosynthetic strategies. The coverage of synthesis and retrosynthesis in Chapter 7 has been expanded (with additional examples and more problems in SkillBuilder 7.8); and in Chapter 8, alkenes are considered both as synthetic targets and possible starting materials. In Chapter 9, the coverage of synthesis with alkynide ions has been expanded, with a focus on retrosynthesis. Indeed, the coverage of retrosynthesis has been expanded similarly in each chapter, gradually developing a scaffold of advanced synthetic skills.
The introduction of bond-line drawings has been moved from Chapter 2 to Chapter 1. This enables the use of bond-line drawings when covering the material in Chapter 1.
SkillBuilder 2.1 (converting between condensed structures and bond-line structures) has been rewritten to show students how to interpret the condensed structures of aldehydes (RCHO) and carboxylic acids (RCO2H).
The end of each chapter has been enhanced with additional multiple-choice questions that mimic the style of questions on standardized exams, including the ACS, DAT, and PCAT exams. The previous edition (3e) had approximately 3 such questions at the end of each chapter. The new edition (4e) now has between 7 and 10 such questions per chapter.
Many students have requested that an answer key (for selected problems) be included at the end of the text. This much-desired feature has been provided in the fourth edition. The end of the book now has a section with answers to selected problems.
Con

tents
Molecular Representations
Acids and Bases
Alkanes and Cycloalkanes
Stereoisomerism
Chemical Reactivity and Mechanisms
Alkyl Halides: Nucleophilic Substitution and Elimination Reactions
Addition Reactions of Alkenes
Alkynes
Radical Reactions
Synthesis
Alcohols and Phenols
Ethers and Epoxides; Thiols and Sulfides
Infrared Spectroscopy and Mass Spectrometry
Conjugated Pi Systems and Pericyclic Reactions
Aromatic Substitution Reactions
Aldehydes and Ketones
Carboxylic Acids and Their Derivatives
Alpha Carbon Chemistry: Enols and Enolates
Amines
Introduction to Organometallic Compounds
Carbohydrates
Amino Acids, Peptides, and Proteins
Lipids
Synthetic Polymers
Free download Organic Chemistry (4th edition) written by David R. Klein in pdf from following download links.
Follow these instructions to unlock the download links. Sometimes download link(s) is/are not visible on mobile devices, so if you face this issue, kindly do visit this page via laptop/desktop computer.
Password for Download Links: chemistry.com.pk
File Size: 88.6MB. Pages: 1379. Download Instructions. Please read Disclaimer.
You can also buy Organic Chemistry (4th Edition) written by David Klein from Amazon by Clicking the image below.

Don't forget to drop a comment below after downloading this book.
You may also like to free download:
Free Download Hundreds of Best-Selling Chemistry Books from HERE.
P.S: If the download link(s) is/are not working, kindly drop a comment below, so we'll update the download link for you.
Happy downloading!