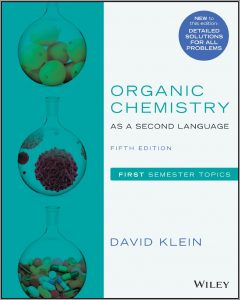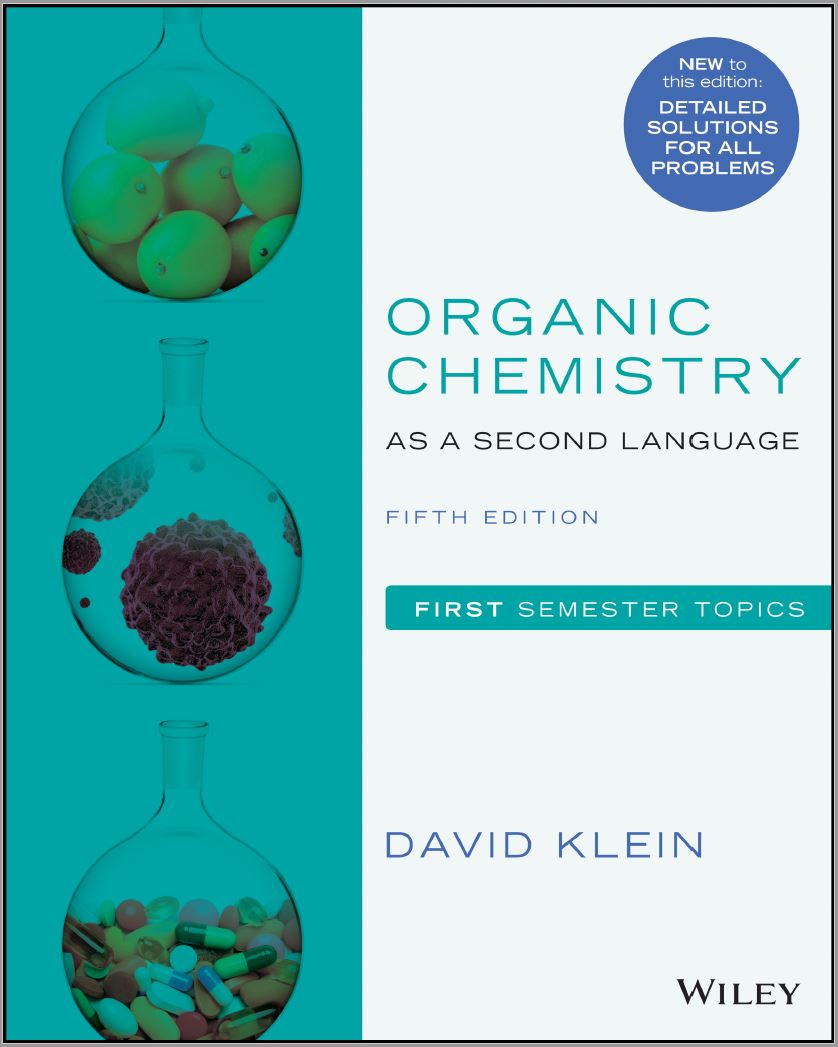 Free download Organic Chemistry As a Second Language: First Semester Topics (5th edition) written by David Klein in pdf.
Covering the initial half of the course, Organic Chemistry as a Second Language: First Semester Topics reviews critical principles and explains their relevance to the rest of the course. Each section provides hands-on exercises and step-by-step explanations to help students fully comprehend classroom lectures and textbook content. Now in its fifth edition, this valuable study resource covers the characteristics of molecules, the nature of atomic bonds, the relationships between different types of molecules, drawing and naming molecules, and essential molecular reactions.
This book will help you study more efficiently so that you can avoid wasting countless hours. It will point out the major scenes in the plot of organic chemistry. The book will review the critical principles and explain why they are relevant to the rest of the course. In each section, you will be given the tools to better understand your textbook and lectures, as well as plenty of opportunities to practice the key skills that you will need to solve problems on exams. In other words, you will learn the language of organic chemistry.
This book cannot replace your textbook, your lectures, or other forms of studying. This book is not the Cliff Notes of Organic Chemistry. It focuses on the basic concepts that will empower you to do well if you go to lectures and study in addition to using this book. To best use this book, you need to know how to study in this course.
As per a user review, "I purchased this book after taking Organic I –and struggling through it–to help me prepare for Organic II. I also purchased the second semester topics eighth edition as well. I learned more in the first few chapters of this book than in an entire semester of Ochem1. The explained solutions are SO helpful and I was learning at a much quicker pace than I was with my professor. My only regret is not buying this sooner!!! 10000/10 I recommend this to anyone and everyone taking organic chemistry. Even if you're in ochem 2 this helps solidify topics that were hard in first semester that will be built upon in ochem 2."
Con

tents
Bond-Line Drawings
Resonance
Acid–Base Reactions
Geometry
Conformations
Configurations
Mechanisms
Elimination Reactions
Addition Reactions
Alkynes
Alcohols
Ethers and Epoxides
Synthesis
Free download Organic Chemistry As a Second Language: First Semester Topics (5th edition) written by David Klein in pdf from following download links.
Kindly follow the instructions to unlock the download link(s). Sometime download link(s) is/are not visible on mobile devices, so if you face this issue, kindly do visit this page via laptop/desktop computer.
Password for Download Links: chemistry.com.pk
File Size: 38.9 MB. Pages: 403. Download Instructions. Kindly read the disclaimer.
You may also like to free download
Free Download Hundreds of Best-Selling Chemistry Books from HERE.
P.S: If the download link(s) is/are not working, kindly drop a comment below, so we'll update the download link for you.
Happy downloading!