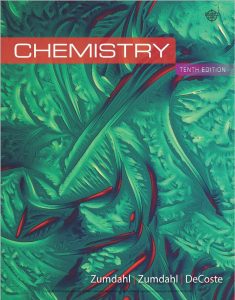 Free download Chemistry (10th edition) written by Steven S. Zumdahl, Susan A. Zumdahl and Donald J. DeCoste in pdf published in 2018.
As per writers, "conceptual learning and problem solving are fundamental to the approach of Chemistry. Our philosophy is to help students learn to think like chemists so that they can apply the process of problem solving to all aspects of their lives. We give students the tools to become critical thinkers: to ask questions, to apply rules and models, and to evaluate the outcome. It was also our mission to create a media program that embodies this philosophy so that when instructors and students look online for either study aids or online homework, each resource supports the goals of the textbook—a strong emphasis on models, real-world applications, and visual learning.
This book contains numerous discussions, illustrations, and exercises aimed at overcoming misconceptions. It has become increasingly clear from our own teaching experience that students often struggle with chemistry because they misunderstand many of the fundamental concepts. In this text, we have gone to great lengths to provide illustrations and explanations aimed at giving students a more accurate
picture of the fundamental ideas of chemistry. In particular, we have attempted to represent the microscopic world of chemistry so that students have a picture in their
minds of "what the atoms and molecules are doing." The art program along with the animations emphasize this goal.
We have also placed a larger emphasis on the qualitative understanding of concepts before quantitative problems are considered. Because using an algorithm to correctly solve a problem often masks misunderstanding—when students assume they understand the material because they got the right "answer"—it is important to probe their understanding in other ways. In this vein, the text includes many Critical Thinking questions throughout the text and a number of Active Learning Questions at the end of each chapter that are intended for group discussion. It is our experience that students often learn the most when they teach each other. Students are forced to recognize their own lack of understanding when they try and fail to explain a concept to another student."
Con

tents
Chemical Foundations
Atoms, Molecules, and Ions
Stoichiometry
Types of Chemical Reactions and Solution Stoichiometry
Gases
Thermochemistry
Atomic Structure and Periodicity
Bonding: General Concepts
Covalent Bonding: Orbitals
Liquids and Solids
Properties of Solutions
Chemical Kinetics
Chemical Equilibrium
Acids and Bases
Acid-Base Equilibria
Solubility and Complex Ion Equilibria
Spontaneity, Entropy, and Free Energy
Electrochemistry
The Nucleus: A Chemist's View
The Representative Elements
Transition Metals and Coordination Chemistry
Organic and Biological Molecules.
Free download Chemistry (10th edition) written by Steven S. Zumdahl, Susan A. Zumdahl and Donald J. DeCoste in pdf from following download links.
Follow these instructions to unlock the download links. Sometimes download link(s) is/are not visible on mobile devices, so if you face this issue, kindly do visit this page via laptop/desktop computer.
Password for Download Links: chemistry.com.pk
File Size: 118MB. Pages: 1219. Download Instructions. Please read Disclaimer.
You can also buy CHEMISTRY (10th Edition) By Zumdahl and DeCoste from Amazon by Clicking the image below.

Don't forget to drop a comment below after downloading this book.
You may also like to free download:
Free Download Hundreds of Best-Selling Chemistry Books from HERE.
P.S: If the download link(s) is/are not working, kindly drop a comment below, so we'll update the download link for you.
Happy downloading!