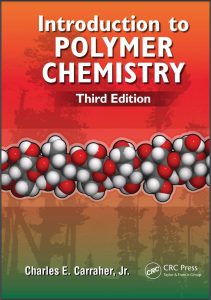 Free download Introduction of Polymer Chemistry (3rd edition) authored by Charles E. Carraher Jr. in pdf.
Most polymer texts are aimed at either graduate students or are hybrids aimed at both the undergraduate but mostly graduate students. This text is aimed mainly at undergraduate students but can also serve graduate students. Thus, a strong bond is forged between science, history, and the crucible that is today's society.
Information gained from the basic (foundational) core science courses is brought to bear on understanding giant molecules. This information includes factual, theoretical, and practical concepts presented in science. It is of use to those that want to be simply well educated, as well as those wanting to pursue medicine, engineering, physics, chemistry, environmental sciences, biomedical sciences, law, and business.
This text is inclusive in the treatment of polymers, including natural and synthetic giant molecules, inorganic and organic polymers, biomacromolecules, elastomers, adhesives, coatings, fibers, plastics, blends, caulks, composites, ceramics, etc. The basic principles that apply to one polymer grouping apply to all of the other groupings when applied with some simple fundamentals. These fundamentals are integrated into the fabric of this text.
Con

tents
Polymer Structure (Morphology)
Molecular Weight of Polymers
Naturally Occurring Polymers
Step-Reaction Polymerization (Polycondensation Reactions)
Ionic Chain-Reaction and Complex Coordination Polymerization (Addition Polymerization)
Copolymerization
Organometallic and Metalloid Polymers
Inorganic Polymers
Reactions of Polymers
Testing and Spectrometric Characterization of Polymers
Rheology and Physical Tests
Additives
Synthesis of Reactants and Intermediates for Polymers
Polymer Technology
Free download Introduction of Polymer Chemistry (3rd edition) authored by Charles E. Carraher Jr. in pdf from following download links.
Follow these instructions to unlock the download links. Sometimes download link(s) is/are not visible on mobile devices, so if you face this issue, kindly do visit this page via laptop/desktop computer.
Password for Download Links: chemistry.com.pk
File Size: 10.5 MB. Pages: 545. Download Instructions. Please read Disclaimer.
You may also like to free download
Free Download Hundreds of Best-Selling Chemistry Books from HERE.
P.S: If the download link(s) is/are not working, kindly drop a comment below, so we'll update the download link for you.
Happy downloading!