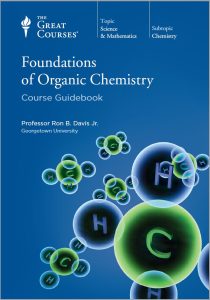 Free download Foundations of Organic Chemistry – Course Guidebook authored by professor Ron B. Davis Jr. in pdf.
In this course, you will investigate the role of carbon in organic molecules—sometimes acting as a reactive site on molecules, sometimes influencing reactive sites on molecules, but always providing structural support for an ever-growing library of both naturally occurring and man-made compounds
Other elements will join the story, bonding with carbon scaffolds to create compounds with a stunningly broad array of properties. Most notable are the elements hydrogen, nitrogen, oxygen, chlorine, and bromine. The presence of these elements and others in organic chemistry spices up the party, but none of them can replace carbon in its central role.
The goal of this course is to take the uninitiated student on a tour of the development and application of the discipline of organic chemistry, noting some of the most famous minds to dedicate themselves to this science in the past few centuries, such as Dmitry Mendeleev (of periodic table fame), Friedrich Wohler (the father of modem organic chemistry), and Alfred Nobel (the inventor of dynamite and founder of the most influential scientific prize in the history of humanity).
Approximately the first half of the course is dedicated to building the foundations of understanding modem organic chemistry. In this portion of the course, you will investigate the structure of the atom, the energetic rationale for chemical bonding between atoms to create compounds, how specific collections of atoms bonded in specific ways create motifs called functional groups, and ultimately the ways in which the bonds in these functional groups form and break in chemical reactions that can be used to convert one compound into another.
Con

tents
Why Carbon?
Drawing Chemical Structures
Drawing Chemical Reactions
Acid–Base Chemistry
Stereochemistry—Molecular Handedness
Alkanes—The Simplest Hydrocarbons
Cyclic Alkanes
Alkenes and Alkynes
Alkyl Halides
Substitution Reactions
Elimination Reactions
Addition Reactions
Alcohols and Ethers
Aldehydes and Ketones
Amines, Imines, and Nitriles
Nitrates, Amino Acids, and Amides
Conjugation and the Diels-Alder Reaction
Benzene and Aromatic Compounds
Modifying Benzene—Aromatic Substitution
Sugars and Carbohydrates
DNA and Nucleic Acids
Amino Acids, Peptides, and Proteins
Metals in Organic Chemistry
Synthetic Polymers
UV-Visible Spectroscopy
Measuring Handedness with Polarimetry
Advanced Spectroscopic Techniques
Purifying by Recrystallization
Purifying by Distillation
Purifying by Extraction
Purifying by Chromatography
The Future of Organic Chemistry
Free download Foundations of Organic Chemistry – Course Guidebook authored by professor Ron B. Davis Jr. in pdf from following download links.
Follow these instructions to unlock the download links. Sometimes download link(s) is/are not visible on mobile devices, so if you face this issue, kindly do visit this page via laptop/desktop computer.
Password for Download Links: chemistry.com.pk
File Size: 1.70 MB. Pages: 299. Download Instructions. Please read Disclaimer.
You may also like to free download
Free Download Hundreds of Best-Selling Chemistry Books from HERE.
P.S: If the download link(s) is/are not working, kindly drop a comment below, so we'll update the download link for you.
Happy downloading!