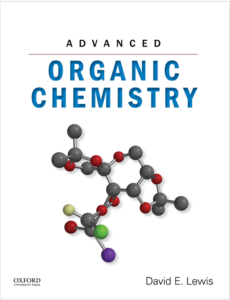 Free download Advanced Organic Chemistry written by David E. Lewis in pdf.
According to the writer, "This book specifically targets advanced undergraduate students and entering graduate students, and is an attempt to bridge that gap—to provide upper-level undergraduate students with an advanced textbook that addresses a number of important topics in more depth than now occurs in most introductory textbooks, while providing both a useful review, and then a much more substantial discussion of these topics for beginning graduate students.
This book has been written explicitly as a textbook, and its organization reflects this. The book is divided loosely into four sections: 1) introductory materials and general concepts of bonding and stereochemistry; 2) physical organic chemistry, reactive intermediates, and their reactions; 3) redox reactions; and 4) modern asymmetric reactions and synthesis.
This last section also contains a chapter on the chemistry of the elements in the lower periods of the main groups, as well as a chapter on modern catalytic reactions for the formation of carbon–carbon bonds.
Each chapter concludes with a list of key terms introduced in the chapter. In chapters where new organic reactions are introduced, there are Reaction Synopses that contain the general reaction and typical reagents and reaction conditions to effect the reaction. I also feel that the humanity of our science is often overlooked in an effort to impart the most factual information possible.
To counter this, I have included footnotes where biographical information about the chemists who developed the science can be found. For the most part, these footnotes contain references to longer biographical works or obituaries, but on a few occasions, these biographies are somewhat more expansive because additional information is so scarce."
Con

tents
Stereochemistry
Organic Shorthand: Acronyms and Name Reactions
Orbitals and Reactivity
Frontier Orbitals and Chemical Reactions
Organic Reactions I: Pericyclic Reactions and the Conservation of Orbital Symmetry
Aromaticity: The 150-Year Riddle
Reactive Intermediates I: Carbocations
Organic Reactions II: Synthesis Using Carbocations to Form C—C Bonds
Reactive Intermediates II: Carbanions and Their Reactivity
Organic Reactions III: Synthetic Reactions of Carbon Nucleophiles: Substitution and Addition
Reactive Intermediates III: Free Radicals, Carbenes, Arynes, and Nitrenes
Organic Reactions IV: Applications of Free Radical Chemistry in Synthesis
Organic Synthesis: Retrosynthetic Analysis, Protecting Groups, and the Strategy of Organic Synthesis
Organic Reactions V: Condensations and Cascade Reactions of Carbon Nucleophiles
Organic Reactions VI: Metal-Catalyzed Reactions for C—C Bond Formation
Redox Reactions I: Oxidation
Redox Reactions II: Reduction with Molecular Hydrogen or Its Equivalent
Redox III: Reduction with Complex Metal Hydrides and Active Metals
Asymmetric Oxidation and Reduction
The Organic Compounds of Silicon, Phosphorus, Sulfur, Selenium, and Tin
Modern Asymmetric Synthesis
Free download Advanced Organic Chemistry written by David E. Lewis in pdf from following download links.
Kindly follow these instructions to unlock the download link(s). Sometime download link(s) is/are not visible on mobile devices, so if you face this issue, kindly do visit this page via laptop/desktop computer.
Password for Download Links: chemistry.com.pk
File Size: 22.8 MB. Pages: 1176. Download Instructions. Kindly read the disclaimer.
You can also buy Advanced Organic Chemistry written by David E. Lewis from Amazon by clicking the image below.

You may also like to free download:
Free Download Hundreds of Best-Selling Chemistry Books from HERE.
P.S: If the download link(s) is/are not working, kindly drop a comment below, so we'll update the download link for you.
Happy downloading!