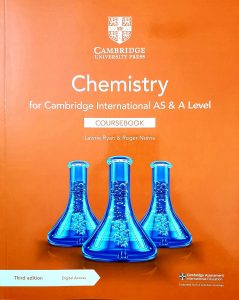 Free download Cambridge International AS & A Level Chemistry Coursebook (3rd edition) written by Lawrie Ryan & Roger Norris in pdf published in 2020.
The coursebook provides comprehensive support for all full Cambridge International As and A Level Chemistry syllabus (9701). It clearly explains facts, concepts, and practical techniques, and uses real-world examples of scientific principles.
This book covers the entire syllabus of Cambridge International AS & A Level Chemistry (9701) for examination from 2022. This book is in three parts:
Chapters 1–18 and P1: the AS Level content, covered in the first year of the course, including a chapter (P1) dedicated to the development of your practical skills
Chapters 19–30 and P2: the A Level content, including a chapter (P2) dedicated to developing your ability to plan, analyse and evaluate practical investigations
Appendices: including a Periodic Table, useful formulae and reactions, a glossary and an index.
The main aims of a textbook like this are to explain the various concepts of chemistry that you need to understand, and to provide you with questions that will help you to test your understanding and develop the key skills needed to succeed on this course. The 'How to use this book' pages show the structure of each chapter and the features of this book.
In your study of chemistry, you will find that certain key concepts are repeated, and that these concepts form 'themes' that link the different areas of chemistry together. You will progress and gain confidence in your understanding of chemistry if you take note of these themes. For this coursebook, these key concepts include:
Atoms and forces
Experiments and evidence
Patterns in chemical behaviour and reactions
Energy changes
Studying chemistry is a stimulating and worthwhile experience. It is an international subject; no single country has a monopoly on the development of the ideas. It can be a rewarding exercise to discover how men and women from many countries have contributed to our knowledge and well-being, through their research into and application of the concepts of chemistry.
Con

tents
Atomic structure
Electrons in atoms
Atoms, molecules and stoichiometry
Chemical bonding
States of matter
Enthalpy changes
Redox reactions
Equilibria
Rates of reaction
Group 2
Group 17
Nitrogen and Sulfur
Hydrocarbons
Halogenoalkanes
Alcohols, esters, carboxylic acids
Carbonyl compounds
Practical skills for AS Level
Lattice energy
Electrochemistry
Further aspects of equilibria
Reaction kinetics
Entropy and Gibbs free energy
Transition elements
Benzene and its compounds
Carboxylic acids and their derivatives
Organic nitrogen compounds
Polymerisation
Organic synthesis
Analytical chemistry
Practical skills for A Level
The Periodic Table of the Elements
Selected standard electrode potentials
Qualitative analysis notes
Free download Cambridge International AS & A Level Chemistry Coursebook (3rd edition) written by Lawrie Ryan & Roger Norris in pdf from following download links.
Kindly follow the instructions to unlock the download link(s). Sometime download link(s) is/are not visible on mobile devices, so if you face this issue, kindly do visit this page via laptop/desktop computer.
Password for Download Links: chemistry.com.pk
File Size: 37.2 MB. Pages: 886. Download Instructions. Kindly read the disclaimer.
You can also buy Cambridge International AS and A Level Chemistry Coursebook (3rd Edition) By Lawrie Ryan & Roger Norris from Amazon by Clicking the image below.
You may also like to free download:
Free download hundreds of chemistry books in pdf from HERE.
P.S: If the download link(s) is/are not working, kindly drop a comment below, so we'll update the download link for you.
Happy downloading!