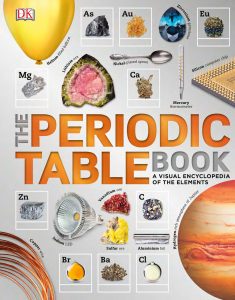 Free download "The Periodic Table Book – A Visual Encyclopedia of the Elements" in pdf.
This visual guide for children shows and explains every chemical element in dazzling detail. This eye-catching encyclopedia takes children on a visual tour of the 118 chemical elements of the periodic table, from argon to zinc. It explores the naturally occurring elements, as well as the man-made ones, and explains their properties and atomic structures. Using more than 1,000 full-color photographs, The Periodic Table Book shows the many natural forms of each element, as well as a wide range of both everyday and unexpected objects in which it is found, making each element relevant for the child's world.
As per a review "In the classic DK manner, this book takes a subject that could be unbelievably tedious and makes it fun with the spectacular use of images. And don't believe the "age range" – this book is good for all ages.
Each of the 118 recognized elements is covered in from 1/2 to 2 pages, with illustrations of the forms it exists in and then plentiful images of the uses each element has been used for. There are many elements, and not just the newer ones, that are largely unknown to the average person, and many are used in ways that we do not realize.
One thing that might bother people is that the elements are not listed alphabetically or by atomic number; instead they are arranged in groups as they appear in the periodic table. But if you need to look up a particular element, you have both the table of contents and a useful index at your disposal.
I think that every well-informed household should have a book about the elements, and I think that for the layman, this book is the best available for that purpose!"
Con

tents
elemental building blocks
chemical discoveries
inside an atom
periodic table of the elements
reactions and uses
hydrogen
alkali metals
alkaline earth metals
transition metals
lanthanides
actinides
the boron group
the carbon group
the nitrogen group
the oxygen group
the halogen group
noble gases
Free download The Periodic Table Book – A Visual Encyclopedia of the Elements in pdf from following download links.
Kindly follow the instructions to unlock the download link(s). Sometimes download link(s) is/are not visible on mobile devices, so if you face this issue, kindly do visit this page via laptop/desktop computer.
Password for Download Links: chemistry.com.pk
File Size: 57.8MB. Pages: 210. Download Instructions. Please read Disclaimer.
You may also like to free download
Free Download Hundreds of Best-Selling Chemistry Books from HERE.
P.S: If the download link(s) is/are not working, kindly drop a comment below, so we'll update the download link for you.
Happy reading!