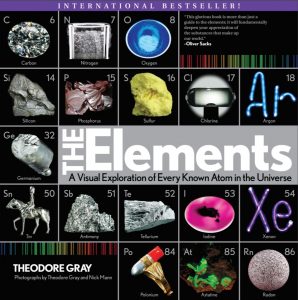 Free download The Elements – A Visual Exploration of Every Known Atom in the Universe by Theodore Gray and Nick Mann in pdf.
What a joy to read! The elements is truly "a visual exploration of every known element in the universe." Author Theodore Gray in a quirky and lively manner, discusses all the elements of the periodic table from #1 hydrogen to #118 ununoctium. (In my college days, lawrencium was the last element discovered. We've come a long way.) Stories range from the radioactive Eagle Scout to gray tin to vanadium tools. And the FBI's confiscation of an element in the collection.
Gray and Nick Mann provided the photographs accompanying each element from Gray's extensive element collection. Each element is pictured in pure form and items using the element are also pictured, from coins, jewelry and lead crystal to red fiestaware (containing uranium), light bulbs, common medicines like pepto-bismal and much more. Against a black background, the photos and layout were stunning. The paper was heavy coated paper which meant a book of considerable weight. Truly a coffee table book!
Gray also includes an explanation of the periodic table, orbitals with filling orders and other chemical properties than a non-chemist might want to skip. There is also a very short bibliography for further reading. If you want more information, Gray has a website with lots more photos and facts for students, teachers and professionals.
There was not a conventional periodic table as I remember it in the book, making it difficult for me to visualize where the element fit. It would have helped to have one in addition to the stylized table used throughout. I was also taken aback by his comment that when "oxygen combines with hydrogen and carbon, the result can be anything from water to …" Really! The comments about incandescent bulbs were also starting to wear thin after the 5th or 6th time. And the author is decidedly opinionated about other things so be prepared. However this in no way detracted from the book.
For someone who needs a more scholarly approach, there are many books on chemical elements and the periodic table. But for a light-hearted look at basic chemistry, this book is superb
Free download The Elements – A Visual Exploration of Every Known Atom in the Universe by Theodore Gray and Nick Mann in pdf from following download links.
Kindly follow the instructions to unlock the download link(s). Sometimes download link(s) is/are not visible on mobile devices, so if you face this issue, kindly do visit this page via laptop/desktop computer.
Password for Download Links: chemistry.com.pk
File Size: 77.1MB. Pages: 241. Download Instructions. Please read Disclaimer.
You may also like to free download
Free Download Hundreds of Best-Selling Chemistry Books from HERE.
P.S: If the download link(s) is/are not working, kindly drop a comment below, so we'll update the download link for you.
Happy reading!