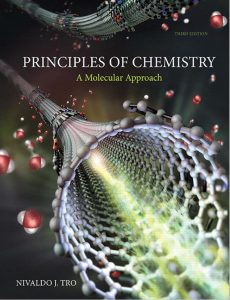 Free download Principles of Chemistry: A Molecular Approach (3rd edition) written by Nivaldo J. Tro in pdf published in 2016.
As per the author; the third edition has been extensively revised and contains many more small changes than I can detail here. Below is a list of the most significant changes from the previous edition. More robust media components have been added, including 80 Interactive Worked Examples, 39 Key Concept Videos, 14 additional Pause & Predict videos, 33 PHET simulations, and 5 new Mastering simulations with tutorials.
Each chapter now has a 10–15 question multiple-choice end-of-chapter Self Assessment Quiz. Since many colleges and universities use multiple-choice exams, and because standardized final exams are often multiple choice, students can use these quizzes to both assess their knowledge of the material in the chapter and to prepare for exams. These quizzes are also available on mobile devices.
Approximately 100 new end-of-chapter group work questions have been added to encourage small group work in or out of the classroom.
Approximately 45 new end-of-chapter problems have been added.
New conceptual connections have been added and many from the previous edition have been modified. In addition, to support active, in class, learning, these questions are now available in Learning Catalytics.
All data have been updated to the most recent available
Con

tents
Matter, Measurement, and Problem Solving
Atoms and Elements
Molecules, Compounds, and Chemical Equations
Chemical Quantities and Aqueous Reactions
Gases
Thermochemistry
The Quantum-Mechanical Model of the Atom
Periodic Properties of the Elements
Chemical Bonding I: The Lewis Model
Chemical Bonding II: Molecular Shapes, Valence Bond Theory, and Molecular Orbital Theory
Liquids, Solids, and Intermolecular Forces
Solutions
Chemical Kinetics
Chemical Equilibrium
Acids and Bases
Aqueous Ionic Equilibrium
Free Energy and Thermodynamics
Electrochemistry
Radioactivity and Nuclear Chemistry
Free download Principles of Chemistry: A Molecular Approach (3rd edition) written by Nivaldo J. Tro in pdf from following download links.
Kindly follow the instructions to unlock the download link(s). Sometimes download link(s) is/are not visible on mobile devices, so if you face this issue, kindly do visit this page via laptop/desktop computer.
Password for Download Links: chemistry.com.pk
File Size: 80MB. Pages: 937. Download Instructions. Please read Disclaimer.
You may also like to download
Free Download Hundreds of Best-Selling Chemistry Books from HERE.
P.S: If the download link(s) is/are not working, kindly drop a comment below, so we'll update the download link for you.
Happy reading!