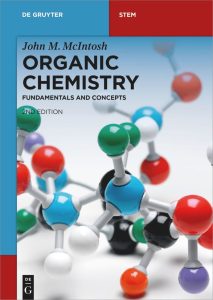 Free download Organic Chemistry Fundamentals and Concepts (2nd edition) authored by John M. McIntosh in pdf.
The text has been designed to be used in conjunction with the included workbook, which introduces and teaches organic nomenclature. Therefore, very little of this subject, which usually occupies a large part of introductory texts is included. Other, much more comprehensive texts are available in the library which can be consulted when more detailed explanations are desired. All have the title "Organic Chemistry" or some variation of this.
Problems are included at the end of each chapter. In some of these sets, problems specifically dealing with material from previous chapters have been included without warning. Many of the problems require application of the principles learned to new situations and therefore are an integral part of the learning process.
The second edition has removed some errors found in the original text, added a few new problems at the chapter ends and, most importantly, added Appendix A which contains the answers to the problems in Part I. An introduction to some of the most important molecules of nature has also been added. I hope these make the book more useful and adds to its acceptance.
Con

tents

Part I: Fundamentals
Introduction
The Shapes of Organic Molecules – Stereochemistry 1
Reactions – Basic Principles (or Where, Why, What, How Fast, and How Far)
Reactions of Alkanes, Alkenes, and Alkynes
More Stereochemistry and Another Reaction Type – Nucleophilic Substitution
Alcohols and Ethers, Amines, and Alkyl Halides. Introduction to Carbonyl Compounds (Aldehydes, Ketones)
More Carbonyl Chemistry – Acids and Their Derivatives
Aromatic Compounds – Benzene and Its Derivatives. Resonance as a Force Majeure
Organic Nitrogen Compounds – Amines and Amides
Elimination Reactions
Introduction to the Molecules of Nature
Part II: The Naming of Organic Compounds
Introduction
Basic Principles
Alkenes, Alkynes, and Compounds With Rings
More Stereochemistry – The CIP System
Functional Groups
Aromatic Compounds
Free download Organic Chemistry Fundamentals and Concepts (2nd edition) authored by John M. McIntosh in pdf from following download links.
Follow these instructions to unlock the download links. Sometimes download link(s) is/are not visible on mobile devices, so if you face this issue, kindly do visit this page via laptop/desktop computer.
Password for Download Links: chemistry.com.pk
File Size: 19.0 MB. Pages: 400. Download Instructions. Please read Disclaimer.
You may also like to free download
Free Download Hundreds of Best-Selling Chemistry Books from HERE.
P.S: If the download link(s) is/are not working, kindly drop a comment below, so we'll update the download link for you.
Happy downloading!