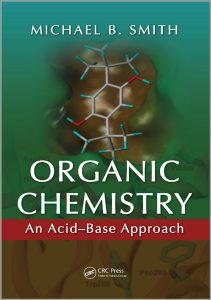 Free download Organic Chemistry – An Acid-Base Approach authored by Michael B. Smith in pdf.
The theme of this book is the premise that many if not most reactions in organic chemistry can be explained by variations of fundamental acid–base chemistry concepts. Moreover, the individual steps in many important mechanisms rely on acid–base reactions. The ability to see these relationships makes understanding organic chemistry easier and, perhaps more importantly, allows one to make predictions about reactivity when memory fails.
Apart from the acid–base theme, this book uses several techniques to assist students in their studies. A list of concepts that the student should know before reading the chapter is listed at the beginning of virtually every chapter. A list of concepts that should be known after the chapter is completed is also provided at the beginning of most chapters. Each chapter concludes with this same list of the concepts that should now have been learned, and a correlation of each concept with the homework problems is provided.
The book begins with an introduction to organic chemistry that describes what it is as well as individuals who have contributed to building organic chemistry as a scientific discipline. Chapter 2 provides a bridge between the acid–base discussions in a typical general chemistry book and those in this organic chemistry book.
Con

tents
Introduction
Why Is an Acid–Base Theme Important?
Boding
Functional Groups
Acids, Bases, Nucleophiles, and Electrophiles
Chemical Reactions, Bond Energy, and Kinetics
Rotamers and Conformation
Stereoisomers: Chirality, Enantiomers, and Diastereomers
Acid–Base Reactions of π-Bonds
Nucleophiles: Lewis Base-Like Reactions at sp3 Carbon
Base-Induced Elimination Reactions
Substitution and Elimination Reactions Can Compete
Organometallic Reagents
Carbonyl Compounds: Structure, Nomenclature, Reactivity
Oxidation
Reactions of Aldehydes and Ketones
Reduction
Carboxylic Acid Derivatives and Acyl Substitution
Aromatic Compounds and Benzene Derivatives
Enolate Anions: Acyl Addition and Acyl Substitution
Difunctional Molecules: Dienes and Conjugated Carbonyl Compounds
Difunctional Molecules: Pericyclic Reactions
Disconnections and Synthesis
Heteroaromatic Compounds
Multifunctional Compounds: Amino Acids and Peptides
Multifunctional Compounds: Carbohydrates
Free download Organic Chemistry – An Acid-Base Approach authored by Michael B. Smith in pdf from following download links.
Follow these instructions to unlock the download links. Sometimes download link(s) is/are not visible on mobile devices, so if you face this issue, kindly do visit this page via laptop/desktop computer.
Password for Download Links: chemistry.com.pk
File Size: 24.5 MB. Pages: 1500. Download Instructions. Please read Disclaimer.
You may also like to free download
Free Download Hundreds of Best-Selling Chemistry Books from HERE.
P.S: If the download link(s) is/are not working, kindly drop a comment below, so we'll update the download link for you.
Happy downloading!