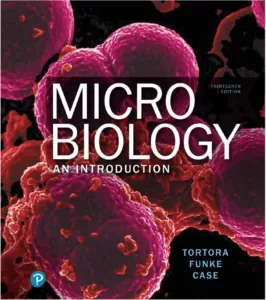 Free download Microbiology An Introduction (13th edition) written by Gerard J. Tortora, Berdell R. Funke, and Christine L. Case in pdf.
The 13th Edition of Tortora, Funke, and Case's Microbiology: An Introduction brings a 21st-century lens to this trusted market-leading introductory textbook. New and updated features, such as Exploring the Microbiome boxes and Big Picture spreads, emphasize how our understanding of microbiology is constantly expanding. New In the Clinic Video Tutors in Mastering Microbiology illustrate how students can apply their learning to their future careers. Mastering Microbiology also includes new Ready-to-Go Teaching Modules that guide you through the most effective teaching tools available.
The thirteenth edition focuses on big-picture concepts and themes in microbiology, encouraging students to visualize and synthesize more difficult topics such as microbial metabolism, immunology, and microbial genetics.
The thirteenth edition meets all students at their respective= levels of skill and understanding while addressing the biggest challenges that instructors face. Updates to the thirteenth edition enhance the book's consistent pedagogy and clear explanations.
Some of the highlights follow.
Exploring the Microbiome. Each chapter has a new box featuring an aspect of microbiome study related to the chapter. Most feature the human microbiome. The boxes are designed to show the importance of microorganisms in health, their importance to life on Earth, and how research on the microbiome is being done.
In the Clinic videos accompanying each chapter opener. In the Clinic scenarios that appear at the start of every chapter include critical-thinking questions that encourage students to think as health care professionals would in various clinical scenarios and spark student interest in the forthcoming chapter content. For the thirteenth edition, videos have been produced for the In the Clinic features for Chapters 1 through 20 and are accessible through Mastering Microbiology.
New Big Picture disease features. New Big Picture features include Vaccine-Preventable Diseases (Chapter 18), Vertical Transmission: Mother to Child (Chapter 22), and Bioterrorism (Chapter 24).
Reworked immunology coverage in Chapters 17, 18, and 19. New art and more straightforward discussions make this challenging and critical material easier for students to understand and retain.
Con

tents

Part One: Fundamentals of Microbiology
The Microbial World and You
Chemical Principles
Observing Microorganisms Through a Microscope
Functional Anatomy of Prokaryotic and Eukaryotic Cells
Microbial Metabolism
Microbial Growth
The Control of Microbial Growth
Microbial Genetics
Biotechnology and DNA Technology
Part Two: A Survey of the Microbial World
Classification of Microorganisms
The Prokaryotes: Domains Bacteria and Archaea
The Eukaryotes: Fungi, Algae, Protozoa, and Helminths
Viruses, Viroids, and Prions
Part Three: Interaction between Microbe and Host
Principles of Disease and Epidemiology
Microbial Mechanisms of Pathogenicity
Innate Immunity: Nonspecific Defenses of the Host
Adaptive Immunity: Specific Defenses of the Host
Practical Applications of Immunology
Disorders Associated with the Immune System
Antimicrobial Drugs
Part Four: Microorganisms and Human Disease
Microbial Diseases of the Skin and Eyes
Microbial Diseases of the Nervous System
Microbial Diseases of the Cardiovascular and Lymphatic Systems
Microbial Diseases of the Respiratory System
Microbial Diseases of the Digestive System
Microbial Diseases of the Urinary and Reproductive Systems
Part Five: Environmental and Applied Microbiology
Environmental Microbiology
Applied and Industrial Microbiology
Free download Microbiology An Introduction (13th edition) written by Gerard J. Tortora, Berdell R. Funke, and Christine L. Case in pdf from following download links.
Kindly follow these instructions to unlock the download link(s). Sometime download link(s) is/are not visible on mobile devices, so if you face this issue, kindly do visit this page via laptop/desktop computer.
Password for Download Links: chemistry.com.pk
File Size: 108 MB. Pages: 964. Download Instructions. Kindly read the disclaimer.
You can also buy Microbiology An Introduction (13th edition) written by Gerard J. Tortora, Berdell R. Funke, and Christine L. Case from Amazon by Clicking the image below.

You may also like to free download:
Molecular Biology of the Cell (6th edition) written by Bruce Alberts, Alexander Johnson, Julian Lewis, David Morgan, Martin Raff, Keith Roberts, Peter Walter
Essential Cell Biology (5th edition) authored by Bruce Alberts, Karen Hopkin, Alexander Johnson, David Morgan, Martin Raff, Keith Roberts, and Peter Walter
Free Download Hundreds of Best-Selling Chemistry Books from HERE.
P.S: If the download link(s) is/are not working, kindly drop a comment below, so we'll update the download link for you.
Happy downloading!