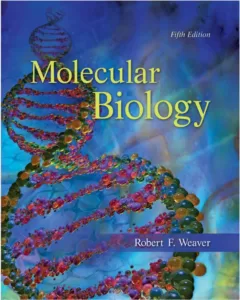 Free download Molecular Biology (5th edition) written by Rober F. Weaver in pdf.
According to the writer, "The book begins with a four-chapter sequence that should be a review for most students. Chapter 1 is a brief history of genetics. Chapter 2 discusses the structure and chemical properties of DNA. Chapter 3 is an overview of gene expression,
and Chapter 4 deals with the nuts and bolts of gene cloning. All these are topics that the great majority of molecular biology students have already learned in an introductory genetics course.
Still, students of molecular biology need to have a grasp of these concepts and may need to refresh their understanding of them. I do not deal specifically with these chapters in class; instead, I suggest students consult them if they need more work on these topics. These chapters are written at a more basic level than the rest of the book.
The most obvious change in the fifth edition is the splitting of old Chapter 24 (Genomics, Proteomics, and Bioinformatics) in two. This chapter was already the longest in the book, and the fi eld it represents is growing explosively, so a split was inevitable. The new Chapter 24 deals with classical genomics: the sequencing and comparison of genomes.
New material in Chapter 24 includes an analysis of the similarity between the human and chimpanzee genomes, and a look at the even closer similarity between the human and Neanderthal genomes, including recent evidence for interbreeding between humans and Neanderthals. It also includes an update on the new fi eld of synthetic biology, made possible by genomic work on microorganisms, and contains a report of the recent success by Craig Venter and colleagues in creating a living Mycoplasma cell with a synthetic genome."
Con

tents

Part I: Introduction
A Brief History
The Molecular Nature of Genes
An Introduction to Gene Function
Part II: Methods in Molecular Biology
Molecular Cloning Methods
Molecular Tools for Studying Genes and Gene Activity
Part III: Transcription in Bacteria
The Mechanism of Transcription in Bacteria
Operons: Fine Control of Bacterial Transcription
Major Shifts in Bacterial Transcription
DNA–Protein Interactions in Bacteria
Part IV: Transcription in Eukaryotes
Eukaryotic RNA Polymerases and Their Promoters
General Transcription Factors in Eukaryotes
Transcription Activators in Eukaryotes
Chromatin Structure and Its Effects on Transcription
Part V: Post-Transcriptional Events
RNA Processing I: Splicing
RNA Processing II: Capping and Polyadenylation
Other RNA Processing Events and Post-Transcriptional Control of Gene Expression
Part VI: Translation
The Mechanism of Translation I: Initiation
The Mechanism of Translation II: Elongation and Termination
Ribosomes and Transfer RNA
Part VII: DNA Replication, Recombination, and Transposition
DNA Replication, Damage, and Repair
DNA Replication II: Detailed Mechanism
Homologous Recombination
Transposition
Part VIII: Genomes
Introduction to Genomics: DNA Sequencing on a Genomic Scale
Genomics II: Functional Genomics, Proteomics, and Bioinformatics
Free download Molecular Biology (5th edition) written by Rober F. Weaver in pdf from following download links.
Kindly follow these instructions to unlock the download link(s). Sometime download link(s) is/are not visible on mobile devices, so if you face this issue, kindly do visit this page via laptop/desktop computer.
Password for Download Links: chemistry.com.pk
File Size: 40.9 MB. Pages: 915. Download Instructions. Kindly read the disclaimer.
You can also buy Molecular Biology (5th edition) written by Rober F. Weaver from Amazon by Clicking the image below.

You may also like to free download:
Free Download Hundreds of Best-Selling Chemistry Books from HERE.
P.S: If the download link(s) is/are not working, kindly drop a comment below, so we'll update the download link for you.
Happy downloading!