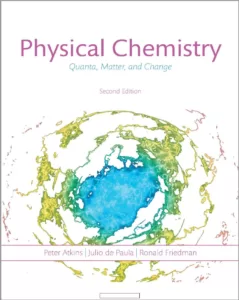 Free download Physical Chemistry Quanta, Matter and Change (2nd edition) authored by Peter Atkins, Julio de Paula and Ronald Friedman in pdf.
This new edition follows the approach of the first edition in so far as it puts quantum theory in the forefront of the development, but we have transformed the presentation. Instead of the chapters of conventional texts, we have presented the material as a series of short Topics arranged into thematic groups, we call Focuses.
Our aim is to present reader and instructor with maximum flexibility. Although we had in mind a particular sequence when writing the book, we acknowledge that instructors might have different ideas. The division into many Topics will allow the instructor to tailor the text within the time constraints of the course as omissions will be much easier to make.
The student should also find the Topics easier to assimilate and review. No longer is it necessary to take a linear path through chapters. Instead, students and instructors can match the choice of Topics to their learning objectives. Indeed, we have carefully avoided language that suggests the Topics have been read in the order they appear in the book.
Teaching and learning are being transformed by technology, and this edition of the text incorporates several web-based resources that enhance learning: they are identified in the How to use this book section that follows this preface.
Con

tents
Foundations
The quantum mechanics of motion
Approximation methods
Atomic structure and spectra
Molecular structure
Molecular symmetry
Interactions
Molecular spectroscopy
Magnetic resonance
Statistical thermodynamics
The First Law of thermodynamics
Physical equilibria
Chemical equilibria
Molecular motion
Chemical kinetics
Reaction dynamics
Processes in fluid systems
Processes on solid surfaces
Free download Physical Chemistry Quanta, Matter and Change (2nd edition) authored by Peter Atkins, Julio de Paula and Ronald Friedman in pdf from following download links.
Kindly follow these instructions to unlock the download link(s). Sometime download link(s) is/are not visible on mobile devices, so if you face this issue, kindly do visit this page via laptop/desktop computer.
[sociallocker id=1417]
/sociallocker]
File Size: 24.6 MB. Pages: 1010. Download Instructions. Please read Disclaimer.
You may also like to free download Physical Chemistry (4th edition) authored by Robert J. Silbey, Robert A. Alberty and Moungi G. Bawendi in pdf and Physical Chemistry Thermodynamics, Statistical Thermodynamics, and Kinetics (4th global edition) authored by Thomas Engel and Philip Reid in pdf.
Free download hundreds of well-known chemistry books in pdf from HERE.
P.S: If the download link(s) is/are not working, kindly drop a comment below, so we'll update the download link for you.
Happy downloading!