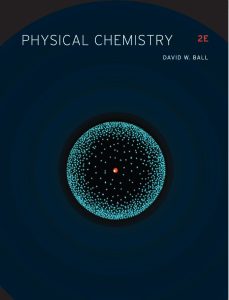 Free download Physical Chemistry (2nd edition) authored by David W. Ball in pdf.
There is an old joke that the thing a first-term politician wants the most is a second term. Something similar can be said for authors of first-edition textbooks: What they want the most is a second edition. A second edition is, after all, a reaffirmation that the author's vision is worth another round of effort, time, and expense—not just by the author, but by editors and editorial assistants and reviewers and accuracy checkers and ancillary writers and more.
It's also a reaffirmation that there are adopters in the community actually using the textbook, for no reputable company would put forth the effort, time, and expense if the first edition wasn't being used.
A second edition is also a chance for reflection on the overall philosophy of the textbook, and you know what? In this case it hasn't changed. Even though new textbooks have been published since the first edition of this book appeared, the market still cries out for a textbook, not an encyclopedia, of physical chemistry, one that speaks to undergraduate students at their level and not the level of graduate students studying for their cumulative exams.
There's evidence that the first edition did that. I've gotten dozens of emails from students with positive feedback about the text, complimenting it on its ability to communicate physical chemistry concepts to them, the ultimate users.
Think of that: Students making positive comments about a physical chemistry text! It seems that the philosophy of the first edition struck a chord with those who are the primary beneficiaries of a textbook
Con

tents
Gases and the Zeroth Law of Thermodynamics
The Second and Third Laws of Thermodynamics
Gibbs Energy and Chemical Potential
Equilibria in Single-Component Systems
Equilibria in Multiple-Component Systems
Electrochemistry and Ionic Solutions
Pre-Quantum Mechanics
Introduction to Quantum Mechanics
Quantum Mechanics: Model Systems and the Hydrogen Atom
Atoms and Molecules
Introduction to Symmetry in Quantum Mechanics
Rotational and Vibrational Spectroscopy
Introduction to Magnetic Spectroscopy
Statistical Thermodynamics: Introduction
More Statistical Thermodynamics
The Kinetic Theory of Gases
Kinetics
The Solid State: Crystals
Surfaces
Free download Physical Chemistry (2nd edition) authored by David W. Ball in pdf from following download links.
Follow these instructions to unlock the download links. Sometimes download link(s) is/are not visible on mobile devices, so if you face this issue, kindly do visit this page via laptop/desktop computer.
Password for Download Links: chemistry.com.pk
File Size: 27.8 MB. Pages: 875. Download Instructions. Please read Disclaimer.
You may also like to free download
Free Download Hundreds of Best-Selling Chemistry Books from HERE.
P.S: If the download link(s) is/are not working, kindly drop a comment below, so we'll update the download link for you.
Happy downloading!