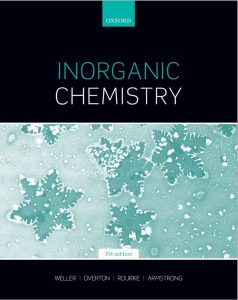 Free download Inorganic Chemistry (7th Edition) written by Mark Weller, Tina Overton, Jonathan Rourke and Fraser Armstrong in pdf.
As per authors, "In this new edition we have refined the presentation, organization, and visual representation. The book has been extensively revised, much has been rewritten and there is some completely new material, including additional content on characterization techniques in chapter 8. The text now includes twelve new boxes that showcase recent developments and exciting discoveries; these include boxes 11.3 on sodium ion batteries, 13.7 on touchscreens, 23.2 on d-orbital participation in lanthanoid chemistry, 25.1 on renewable energy, and 26.1 on cellulose degradation. We have written our book with the student in mind, and have added new pedagogical features and enhanced others.
Additional context boxes on recent innovations link theory to practice, and encourage understanding of the real-world significance of inorganic chemistry. Extended examples, self-test questions, and new exercises and tutorial problems stimulate thinking, and encourage the development of data analysis skills, and a closer engagement with research. We have also improved the clarity of the text with a new two column format throughout. Many of the 2000 illustrations and the marginal structures have been redrawn, many have been enlarged for improved clarity, and all are presented in full colour. We have used colour systematically rather than just for decoration, and have ensured that it serves a pedagogical purpose, encouraging students to recognize patterns and trends in bonding and reactivity."
As per a student's review, "This book is a good survey for basically all of the elements, most of it is done by group. I highly recommend this book for undergrad/graduate. What to expect: survey on most of the transition metals, electronics of metals, plus metal magnetism. This book does have an expectation of you to have background in chemistry. At the end of the book there is a section for applications of inorganic chemistry (coordination, catalysis), but it does not go into great detail on those subject.
What not to expect: Inorganic reactions, they go surface level on reactions.
Details at the end of the book (ie catalysis, that area of study is so large its hard to fit in a book)
Overall, I highly recommend this book, its very easy to read for a graduate student."
Con

tents

PART 1: Foundations
Atomic structure
Molecular structure and bonding
Molecular symmetry
The structures of simple solids
Acids and bases
An introduction to coordination compounds
Physical techniques in inorganic chemistry 244
PART 2 The elements and their compounds
Periodic trends
Hydrogen
The Group 1 elements
The Group 2 elements
The Group 13 elements
The Group 14 elements
The Group 15 elements
The Group 16 elements
The Group 17 elements
The Group 18 elements
The d-block elements
d-Metal complexes: electronic structure and properties
Coordination chemistry: reactions of complexes
d-Metal organometallic chemistry
The f-block elements
PART 3 Expanding our horizons: advances and applications
Materials chemistry and nanomaterials
Green chemistry
Biological inorganic chemistry
Inorganic chemistry in medicine
Free download Inorganic Chemistry (7th Edition) written by Mark Weller, Tina Overton, Jonathan Rourke and Fraser Armstrong in pdf from following download links.
Follow these instructions to unlock the download links. Sometimes download link(s) is/are not visible on mobile devices, so if you face this issue, kindly do visit this page via laptop/desktop computer.
Password for Download Links: chemistry.com.pk
File Size: 131MB. Pages: 967. Download Instructions. Please read Disclaimer.
Don't forget to drop a comment below after downloading this book.
You may also like to free download
Free Download Hundreds of Best-Selling Chemistry Books from HERE.
P.S: If the download link(s) is/are not working, kindly drop a comment below, so we'll update the download link for you.
Happy downloading!