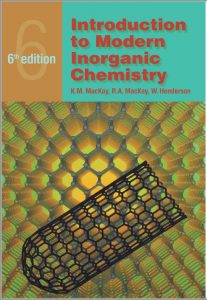 Free download Introduction to Modern Inorganic Chemistry (6th Edition) By K. M. MacKay, R. A. MacKay and Henderson in pdf.
Inorganic Chemistry continues to fascinate! The diversity of chemistry covered by the "inorganic" elements brings new and sometimes surprising compounds, insights into the chemistry of biological systems and applications in fields as diverse as polymers and medicine. The overall format of the book closely follows that of previous editions, with the earlier Chapters (1-8 and 13) concentrating on principles, Chapters 9-12, 14 and 15 covering the systematic chemistry of the elements, and the later Chapters (16-20) covering more specialised topics. The Periodic Table continues to be a vital tool in Inorganic Chemistry for the rationalisation and prediction of chemical trends.
In this edition, we have concentrated on a thorough update of material from previous editions, reordering some material, and presenting the material in a modern and readable style by means of boxes, margin notes and many redrawn diagrams. Additional Problems have been added at the end of many chapters as an aid-in-learning for the reader. Topics such as the use of supercritical fluids as solvents, the application of mass spectrometry in inorganic chemistry, carbonyl complexes of metals in high oxidation states, very large metal clusters and the isolation and chemistry of the superheavy elements are an illustration of some of the new and exciting areas which have been added or updated in this edition.
Con

tents
Introduction
The Electronic Structure and the Properties of Atoms
Covalent Molecules: Diatomics
Polyatomic Covalent Molecules
Solid State
Solution Chemistry
Experimental Methods
General Properties of the Elements in Relation to the Periodic Table
Hydrogen
The 's' Elements
The Scandium Group and the Lanthanides
The Actinide Elements
The Transition Metals: General Properties and Complexes
The Transition Metals of the First Series
The Elements of the Second and Third Transition Series
Transition Metals: Selected Topics
The Elements of the 'p' Block
Selected Topics in Main Group Chemistry and Bonding
General Topics
Biological, Medicinal and Environmental Inorganic Chemistry
Free download Introduction to Modern Inorganic Chemistry (6th Edition) By K. M. MacKay, R. A. MacKay and Henderson in pdf from following download links.
Kindly follow these instructions to unlock the download link(s). Sometime download link(s) is/are not visible on mobile devices, so if you face this issue, kindly do visit this page via laptop/desktop computer.
Password for Download Links: chemistry.com.pk
File Size: 104 MB. Pages: 625. Download Instructions. Kindly read the disclaimer.
You may also like to free download
Free Download Hundreds of Best-Selling Chemistry Books from HERE.
P.S: If the download link(s) is/are not working, kindly drop a comment below, so we'll update the download link for you.
Happy downloading!