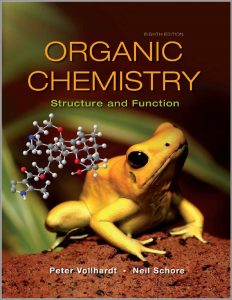 Free download Organic Chemistry Structure and Function (8th edition) written by Peter Vollhardt and Neil Schore in pdf.
In the eighth edition of Organic Chemistry: Structure and Function, we maintain the logical framework for understanding contemporary organic chemistry that is a hallmark of the text, while also strengthening the focus on helping students understand reactions, mechanisms, and synthetic analysis, as well as their practical applications.
The classic framework of the text emphasizes that the structure of an organic molecule determines how that molecule functions, be it with respect to its physical behavior or in a chemical reaction. Extensive revisions to the eighth edition build on this framework by presenting a refined methodology, rooted in teaching expertise, to promote student understanding, build problem-solving skills, and provide applications of organic chemistry in the life and material sciences. Organic Chemistry: Structure and Function is also offered in a cost-effective SaplingPlus format as an interactive and fully mobile e Book supported by interactive media features and the well-respected Sapling Learning tutorial style problems.
Con

tents
Structure and Bonding in Organic Molecules
Structure and Reactivity: Acids and Bases, Polar and Nonpolar Molecules
Reactions of Alkanes: Bond-Dissociation Energies, Radical Halogenation, and Relative Reactivity
Cycloalkanes
Stereoisomers
Properties and Reactions of Haloalkanes: Bimolecular Nucleophilic Substitution
Further Reactions of Haloalkanes: Unimolecular Substitution and Pathways of Elimination
Hydroxy of Functional Group: Alcohols: Properties, Preparation, and Strategy of Synthesis
Further Reactions of Alcohols and the Chemistry of Ethers
Using Nuclear Magnetic Resonance Spectroscopy to Deduce Structure
Alkenes: Infrared Spectroscopy and Mass Spectrometry
Alkynes: The Carbon
Delocalized Pi Systems: Investigation by Ultraviolet and Visible Spectroscopy Interlude
Benzene and Aromaticity: Electrophilic Aromatic Substitution
Electrophilic Attack on Derivatives of Benzene: Substituents Control Regioselectivity
Aldehydes and Ketones: The Carbonyl Group
Enols, Enolates, and the Aldol Condensation: a,b-Unsaturated Aldehydes and Ketones
Carboxylic Acids
Amines and Their Derivatives: Functional Groups Containing Nitrogen
Chemistry of the Benzene Substituents: Alkylbenzenes, Phenols, and Benzenamines
Ester Enolates and the Claisen Condensation: Synthesis of b-Dicarbonyl Compounds; Acyl Anion Equivalents
Carbohydrates: Polyfunctional Compounds in Nature
Heterocycles: Heteroatoms in Cyclic Organic Compounds
Amino Acids, Peptides, Proteins, and Nucleic Acids: Nitrogen-Containing Polymers in Nature
Free download Organic Chemistry Structure and Function (8th edition) written by Peter Vollhardt and Neil Schore in pdf from following download links.
Kindly follow these instructions to unlock the download link(s). Sometime download link(s) is/are not visible on mobile devices, so if you face this issue, kindly do visit this page via laptop/desktop computer.
Password for Download Links: chemistry.com.pk
File Size: 229 MB. Pages: 3941. Download Instructions. Kindly read the disclaimer.
You may also like to free download
Free Download Hundreds of Best-Selling Chemistry Books from HERE.
P.S: If the download link(s) is/are not working, kindly drop a comment below, so we'll update the download link for you.
Happy downloading!