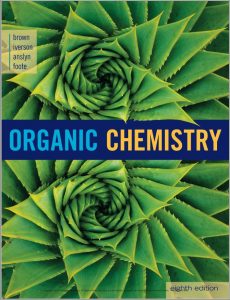 Free download Organic Chemistry (8th edition) written by William H. Brown, Brent L. Iverson, Eric Anslyn and Christopher S. Foote in pdf published in 2018.
Organic Chemistry is a student-friendly, cutting edge introduction for chemistry, health, and the biological sciences majors. The Eighth Edition builds on unified mechanistic themes, focused problem-solving, applied pharmaceutical problems, and biological examples. Stepwise reaction mechanisms emphasize similarities among mechanisms using four traits: breaking a bond, making a new bond, adding a proton, and taking a proton away. Pull-out organic chemistry reaction roadmaps designed stepwise by chapter help students devise their own reaction pathways. Emphasizing "how-to" skills, this edition is packed with challenging synthesis problems, medicinal chemistry problems, and unique roadmap problems.
There are four new features in the eighth edition, each intended to enhance dramatically student engagement and learning. We are excited to introduce almost 100 videos, which are lessons from the authors in an audio/visual format that take students through the working of example problems and important graphics. In other words, most of the key lessons from the book. We also introduce three other new features designed to enhance student learning and test preparation: (1) "Things You Should Know," (2) Margin bullets emphasizing and reinforcing key foundational ideas that recur throughout the book, and (3) the most comprehensive end-of-chapter "Study Guides" of any text that recap the key ideas, lessons, homework problems, and reactions of each chapter.
Con

tents
Covalent Bonding and Shapes of Molecules
Things You Should Know I: General Conclusions from Quantum Mechanics
Alkanes and Cycloalkanes
Stereoisomerism and Chirality
Acids and Bases
Alkenes: Bonding, Nomenclature, and Properties
Things You Should Know II: Nucleophiles and Electrophiles
Things You Should Know III: Reaction Mechanisms
Reactions of Alkenes
Alkynes
Haloalkanes, Halogenation, and Radical Reactions
Things You Should Know IV: Common Mistakes in Arrow Pushing
Nucleophilic Substitution and b-Elimination
Alcohols
Ethers, Epoxides, and Sulfides
Infrared Spectroscopy
An Introduction to Organometallic Compounds
Aldehydes and Ketones
Carboxylic Acids
Things You Should Know V: Carboxylic Acid Derivative Reaction Mechanisms
Functional Derivatives of Carboxylic Acids
Enolate Anions and Enamines
Dienes, Conjugated Systems, and Pericyclic Reactions
Benzene and the Concept of Aromaticity
Reactions of Benzene and Its Derivatives
Amines
Catalytic Carbon-Carbon Bond Formation
Carbohydrates
Lipids
Amino Acids and Proteins
Nucleic Acids
Organic Polymer Chemistry
Free download Organic Chemistry (8th edition) written by William H. Brown, Brent L. Iverson, Eric Anslyn and Christopher S. Foote in pdf from following download links.
Kindly follow the instructions to unlock the download link(s). Sometime download link(s) is/are not visible on mobile devices, so if you face this issue, kindly do visit this page via laptop/desktop computer.
Password for Download Links: chemistry.com.pk
File Size: 137 MB. Pages: 1424. Download Instructions. Kindly read the disclaimer.
You may also like to free download:
Free Download Hundreds of Best-Selling Chemistry Books from HERE.
P.S: If the download link(s) is/are not working, kindly drop a comment below, so we'll update the download link for you.
Happy downloading!