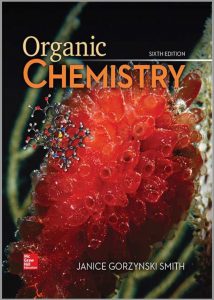 Free download Organic Chemistry (6th Edition) written by Janice Gorzynski Smith in pdf published in 2017.
Style This text is different—by design. The text uses less prose and more diagrams, equations, tables, and bulleted summaries to introduce and reinforce the major concepts and themes of organic chemistry.
Content Organic Chemistry accents basic themes in an effort to keep memorization at a minimum. Relevant examples from everyday life are used to illustrate concepts, and this material is integrated throughout the chapter rather than confined to a boxed reading. Each topic is broken down into small chunks of information that are more manageable and easily learned. Sample problems are used as a tool to illustrate stepwise problem solving. Exceptions to the rule and older, less useful reactions are omitted to focus attention on the basic themes.
Organization Organic Chemistry uses functional groups as the framework within which chemical reactions are discussed. Similar reactions are grouped together so that parallels can be emphasized. These include acid–base reactions (Chapter 2), oxidation and reduction (Chapters 12 and 17), radical reactions (Chapter 13), and reactions of organometallic reagents (Chapter 17).
Con

tents
Structure and Bonding
Acids and Bases
Introduction to Organic Molecules and Functional Groups
Alkanes
Stereochemistry
Understanding Organic Reactions
Alkyl Halides and Nucleophilic Substitution
Alkyl Halides and Elimination Reactions
Alcohols, Ethers, and Related Compounds
Alkenes and Addition Reactions
Alkynes and Synthesis
Oxidation and Reduction
Nuclear Magnetic Resonance Spectroscopy
Radical Reactions
Conjugation, Resonance, and Dienes
Benzene and Aromatic Compounds
Reactions of Aromatic Compounds
Introduction to Carbonyl Chemistry; Organometallic Reagents; Oxidation and Reduction
Aldehydes and Ketones—Nucleophilic Addition
Carboxylic Acids and Nitriles
Carboxylic Acids and Their Derivatives—Nucleophilic Acyl Substitution
Substitution Reactions of Carbonyl Compounds at the α Carbon
Carbonyl Condensation Reactions
Amines
Carbon–Carbon Bond-Forming Reactions in Organic Synthesis
Pericyclic Reactions
Carbohydrates
Amino Acids and Proteins
Synthetic Polymers
Lipids
Free download Organic Chemistry (6th Edition) written by Janice Gorzynski Smith in pdf from following download links..