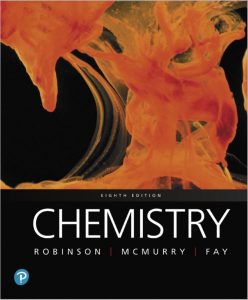 Free Download CHEMISTRY (8th Edition) written by Jill K. Robinson, John E. McMurry and Robert C. Fay in pdf published in 2020.
As per writers, "You no doubt have experience using textbooks and know they are not meant to read like a novel. We have written this book to provide you with a clear, cohesive introduction to chemistry in a way that will help you, as a new student of chemistry, understand and relate to the subject. While you could curl up with this book, you will greatly benefit from continually formulating questions and checking your understanding as you work through each section. The way this book is designed and written will help you keep your mind active, thus allowing you to digest important concepts as you learn some of the many principles of chemistry.
The 8th edition was revised to create an interactive study cycle based on research of effective learning methods. Many common study habits such as highlighting, rereading, and long study sessions create the illusion of fast progress, but these gains fade quickly. More deep and durable learning occurs from self-testing, difficulty in practice, and spaced practice of different skills.
The book content and page/print quality is good (with one issue that I'll describe shortly). McMurry is more famous for his Organic Chemistry book but I've found the General Chemistry text to be structured well and the overall experience is comparable to the more popular Zumdahl or Petrucci or Brown/LeMay. This edition by Pearson, however, had many pages blank or partially printed because of which I had to return the book. I've instead ordered an international version of the Atoms First book by the same author. In summary – I recommend the author but Pearson did not have good quality control or maybe I just got unlucky with my copy. I haven't faced the same issue with any of the other Pearson books I have bought.
Con

tents
Chemical Tools: Experimentation and Measurement
Atoms, Molecules, and Ions
Mass Relationships in Chemical Reactions
Reactions in Aqueous Solution
Periodicity and the Electronic Structure of Atoms
Ionic Compounds: Periodic Trends and Bonding Theory
Covalent Bonding and Electron-Dot Structures
Covalent Compounds: Bonding Theories and Molecular Structure
Thermochemistry: Chemical Energy
Gases: Their Properties and Behavior
Liquids and Phase Changes
Solids and Solid-State Materials
Solutions and Their Properties
Chemical Kinetics
Chemical Equilibrium
Aqueous Equilibria: Acids and Bases
Applications of Aqueous Equilibria
Thermodynamics: Entropy, Free Energy, and Spontaneity
Electrochemistry
Nuclear Chemistry
Transition Elements and Coordination Chemistry
The Main-Group Elements
Organic and Biological Chemistry
Free Download CHEMISTRY (8th Edition) written by Jill K. Robinson, John E. McMurry and Robert C. Fay in pdf from following download links.
Follow these instructions to unlock the download links. Sometimes download link(s) is/are not visible on mobile devices, so if you face this issue, kindly do visit this page via laptop/desktop computer.
Password for Download Links: chemistry.com.pk
File Size: 119MB. Pages: 1196. Download Instructions. Please read Disclaimer.
You may also like to free download:
Free Download Hundreds of Best-Selling Chemistry Books from HERE.
P.S: If the download link(s) is/are not working, kindly drop a comment below, so we'll update the download link for you.
Happy downloading!