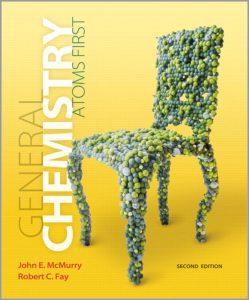 Free download General Chemistry: Atoms First (2nd edition) written by John E. McMurry and Robert C. Fay in pdf.
Just as important as the addition of new material and features is that the best features of the previous edition have been retained:
• The design remains spacious, readable, and unintimidating.
• The writing style remains clear and concise.
• Worked problems are identified by subject and are immediately followed by a similar problem for students to solve.
• Each chapter ends with a summary, a list of key words with accompanying page references, and a large set of end-of-chapter problems.
• Most end-of-chapter problems are classified by text section and paired by topic. These are followed by a group of unclassified Chapter Problems and a final set of Multiconcept Problems, which draw on and connect concepts from several chapters.
• Extensive use of visual, non-numerical, Conceptual Problems continues, both within and at the ends of chapters. These Conceptual Problems, which test the understanding of principles rather than the ability to put numbers into a formula, have been a hallmark of this text since the first edition. Don't make the mistake of thinking that these problems are simple just because they don't have numbers.
Many are real challenges that will test the ability of any student.
• Ballpark Checks follow many of the Worked Examples to reinforce students' conceptual understanding and give them confidence that they have arrived at the right answer.
Con

tents
Chemical Tools: Experimentation and Measurement
The Structure and Stability of Atoms
Periodicity and the Electronic Structure of Atoms
Atoms and Ionic Bonds
Covalent Bonds and Molecular Structure
Chemical Arithmetic: Stoichiometry
Reactions in Aqueous Solution
Thermochemistry: Chemical Energy
Gases: Their Properties and Behavior
Liquids, Solids, and Phase Changes
Solutions and Their Properties
The Rates and Mechanisms of Chemical Reactions
Chemical Equilibrium: The Extent of Chemical Reactions
Aqueous Equilibria: Acids and Bases
Applications of Aqueous Equilibria
Thermodynamics: Entropy, Free Energy, and Equilibrium
Electrochemistry
Hydrogen, Oxygen, and Water
The Main-Group Elements
Transition Elements and Coordination Chemistry
Metals and Solid-State Materials
Nuclear Chemistry
Free download General Chemistry: Atoms First (2nd edition) written by John E. McMurry and Robert C. Fay in pdf from following download links.
Kindly follow these instructions to unlock the download link(s). Sometime download link(s) is/are not visible on mobile devices, so if you face this issue, kindly do visit this page via laptop/desktop computer.
Password for Download Links: chemistry.com.pk
File Size: 64.5 MB. Pages: 1106. Download Instructions. Kindly read the disclaimer.
You can also buy General Chemistry: Atoms First (2nd edition) written by John E. McMurry and Robert C. Fay from Amazon by Clicking the image below.

You may also like to free download
Free Download Hundreds of Best-Selling Chemistry Books from HERE.
P.S: If the download link(s) is/are not working, kindly drop a comment below, so we'll update the download link for you.
Happy downloading!