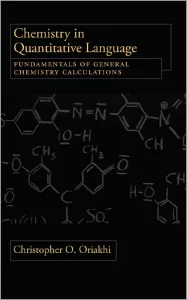 Free download Chemistry in Quantitative Language – Fundamentals of General Chemistry Calculations authored by Christopher O. Oriakhi in pdf.
Chemistry in Quantitative Language is written for a broad audience including high school (senior secondary schools, GCE O- & A-levels) and first-year college students. In addition, students preparing for various entrance examinations such as AP chemistry, GRE subject test, JAMB, and MCAT will benefit greatly from this book.
This book attempts to cover the different types of calculations usually encountered in general chemistry. Apart from chapter 1, which deals with a review of essential mathematics, I have attempted to present the chapters in a logical order as is found in many standard textbooks or syllabus. The contents are organized for easy access to information on any topic to enable the student to select only the necessary materials.
Chemistry in Quantitative Language should not replace a standard textbook. Instead, I have written it as a study guide in problem solving. The book covers chemical equations (a.k.a. the language of chemistry) and calculations based on chemical reactions extensively.
To do well in problem solving, you need a strong knowledge of high school or at least GCE ordinary level mathematics with emphasis on arithmetic and algebra. The essential mathematics skills you will find most helpful are reviewed in chapters 1 and 2.
In each chapter, I have provided some basic concepts followed by several solved examples. There is no substitute for studying these examples until you master them. Several problems are given at the end of each chapter. You should have very little trouble if you have studied and understood the worked examples.
Con

tents
Essential Mathematics
Systems of Measurement
Formula and Molecular Mass
Measuring Chemical Quantities: the Mole
Formulas of Compounds and Percent Composition
Chemical Formulas and Nomenclature
Chemical Equations
Stoichiometry
Structure of the Atom
Gas Laws
Liquids and Solids
Solution Chemistry
Volumetric Analysis
Ideal Solutions and Colligative Properties
Chemical Kinetics
Chemical Equilibrium
Ionic Equilibria and pH
Solubility and Complex-Ion Equilibria
Thermochemistry
Chemical Thermodynamics
Oxidation and Reduction Reactions
Radioactivity and Nuclear Reactions
Free download Chemistry in Quantitative Language – Fundamentals of General Chemistry Calculations authored by Christopher O. Oriakhi in pdf from following download links.
Follow these instructions to unlock the download links. Sometimes download link(s) is/are not visible on mobile devices, so if you face this issue, kindly do visit this page via laptop/desktop computer.
Password for Download Links: chemistry.com.pk
File Size: 1.47 MB. Pages: 509. Download Instructions. Please read Disclaimer.
You may also like to free download
Free Download Hundreds of Best-Selling Chemistry Books from HERE.
P.S: If the download link(s) is/are not working, kindly drop a comment below, so we'll update the download link for you.
Happy downloading!