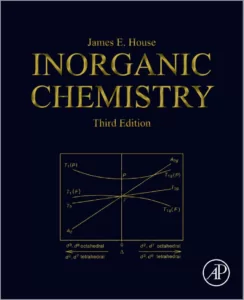 Free download Inorganic Chemistry (3rd edition) authored by James E. House in pdf.
There is no way that a new edition of a book can even begin to survey all of the new chemistry published in even a limited time interval. For an undergraduate inorganic chemistry textbook, it seems to the author that the best approach to present clear discussions of the fundamental principles and then to apply them in a comprehensive and repetitive way to different types of systems.
That is the intent with this book and along with that approach, the attempt is made to intersperse discussion of selected topics related to recent developments and current interest. To those who have never faced it, such a task may seem monumental, and to those who have faced it, the challenge is recognized as well-nigh impossible. It is hoped that this book meets the needs of students in a user-friendly but suitably rigorous manner.
The general plan of this edition continues that of the second edition with material arranged in five divisions consisting of structure of atoms and molecules; condensed phases; acids, bases, and solvents; chemistry of the elements; and chemistry of coordination compounds.
However, this edition also introduces students to some of the active areas of research by showing the results of recent work. This is done to help students see where inorganic chemistry is proving useful. At the end of each chapter, there is a section called References and Resources.
The References include the publications that are cited in the text, whereas the Resources are more general works, particularly advanced books, review articles, and topical monographs.
Con

tents

Part I: Structure of Atoms and Molecules
Light, electrons, and nuclei
Basic quantum mechanics and atomic structure
Covalent bonding in diatomic molecules
A survey of inorganic structures and bonding
Symmetry and molecular orbitals
Part II: Condensed Phases
Dipole moments and intermolecular interactions
Ionic bonding and structures of solids
Dynamic processes involving inorganic solids
Part III: Acids, Bases and Solvents
Acid-base chemistry
Chemistry in nonaqueous solvents
Part IV: Chemistry of the Elements
Chemistry of metallic elements
Organometallic compounds of the main group elements
Chemistry of nonmetallic elements I: Hydrogen, boron, oxygen, and carbon
Chemistry of nonmetallic elements II: Groups IVA and VA
Chemistry of nonmetallic elements III: Groups VIA-VIIIA
Part V: Chemistry of Coordination Compounds
Introduction to coordination chemistry
Ligand fields and molecular orbitals
Interpretation of spectra
Composition and stability of complexes
Synthesis and reactions of coordination compounds
Complexes containing metal-carbon and metal-metal bonds
Coordination compounds in catalysis
Bioinorganic chemistry
Free download Inorganic Chemistry (3rd edition) authored by James E. House in pdf from following download links.
Kindly follow these instructions to unlock the download link(s). Sometime download link(s) is/are not visible on mobile devices, so if you face this issue, kindly do visit this page via laptop/desktop computer.
Password for Download Links: chemistry.com.pk
File Size: 31.4 MB. Pages: 956. Download Instructions. Please read Disclaimer.
You may also like to free download:
Free download hundreds of Best-Selling Chemistry books from HERE.
P.S: If the download link(s) is/are not working, kindly drop a comment below, so we'll update the download link for you.
Happy downloading!