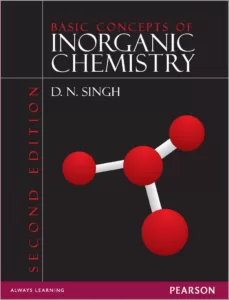 Free download Basic Concepts of Inorganic Chemistry (2nd edition) authored by D.N. Singh in pdf.
Inorganic Chemistry is the least taught portion of Class 12 Chemistry course. Good part about the questions from the inorganic portion is that they are solely based on the principles. But the books already available in the market talk least of the principles and more about the experimental details and other things. This book mainly deals with the principles of inorganic chemistry and uses experimental conditions only when it is needed.
This book has been written to meet the needs of students from different courses and different boards like CBSE, ICSE and various State boards.
Con

tents
Chemical Bonding and Molecular Structure
Acids and Bases
Chemical Reaction
Transition Elements
Coordination Chemistry
Abundance and metallurgy
Hydrogen and Its Chemistry
Group – 1(IA) The alkali metals
Group – 2(IIA) [Be, Mg, Ca, Sr, Ba, Ra]
Group – 11(IIB) Cu, Ag, Au
Group – 12(IIB) Zn, Cd, Hg
Group – 13 (IIIA) B, Al, Ga, In, Td
Group – 14(IVA) C, Si, Ge, Sn, Pb
Group – 15(VA)N, P, As, Sb, Bi
Group–16(VIA) O, S, Se, Te, Po
Group – 17 (VIIIA) Halogens F, Cl, Br, I, and At
Group – 18 The Noble Gases
Analytical Chemistry
Free download Basic Concepts of Inorganic Chemistry (2nd edition) authored by D.N. Singh in pdf from following download links.
Kindly follow these instructions to unlock the download link(s). Sometime download link(s) is/are not visible on mobile devices, so if you face this issue, kindly do visit this page via laptop/desktop computer.
[sociallocker id=1417]
Password for Download Link 4 is: chemistry.com.pk
/sociallocker]
File Size: 13.3 MB. Pages: 556. Download Instructions. Please read Disclaimer.
You may also like to free download How it Works Book of the Elements – All About the Universe's Building Blocks in pdf.
Free download hundreds of well-known chemistry books in pdf from HERE.
P.S: If the download link(s) is/are not working, kindly drop a comment below, so we'll update the download link for you.
Happy downloading!