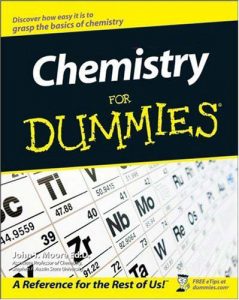 Free download Chemistry For Dummies written by John T. Moore in pdf.
As per a review, "There are three evident parts in this review book. The first being the overall general chemistry knowledge being like what is energy or what the scientific method is. The second really gets down to the actual chemistry that we had to learn in class such as stoichiometry, periodic trends, and acid/ bases. The third section introduced how all of the information connects to the real world as in like nuclear fission or fusion, how pollution affects the air, and what is acid rain.
The first section is like before, very basic in information and is generally for those that have little or no knowledge of chemistry. The sections are set up nicely to help the newly acquainted chemistry student to jump right in. The second section involves the real grit of the class and gives many examples and diagrams to explain what is being said throughout this section. The third section is really for those that find themselves in the interest of any real-world applications or just are interested in finding out what all the stuff they just read and learned really mean to the industry.
I would rate this book as a 4.0 out of 5 for the normal chemistry student. I would rate this book as a 3.0 out of 5 for the AP chemistry student.
The reason for the 4.0 out of 5 for the regular chemistry student is that this is almost all of the information needed to complete the class and do well. However, the informal format of the book could make it a bit difficult to read and understand. The informalities may be confusing if the students are using a regular textbook for the class. The reason for the 3.0 out of 5 for the AP chemistry student is mainly due to the overall good amount of material and many different methods to solving problems, however, again the informal format might not be the best as well as focuses more on the people behind these theories and different diagrams. As seen from many AP Chemistry tests the people behind these theories and diagrams are not mentioned frequently enough to need a page for each person. The content that those scientists completed, however, is still very relevant to learn and understand. Something that I would recommend to change would be to make more of the book content covered in the class and not 1/3 of the book be about the real-world applications.
Overall, I would recommend this book to any student looking for some help in a chemistry course and is looking to learn more about real-world applications to the science. You may want to get help from a teacher first since they are the best and usually free information."
Con

tents

Part I: Basic Concepts of Chemistry
Chapter 1: What Is Chemistry, and Why Do I Need to Know Some?
Chapter 2: Matter and Energy
Chapter 3: Something Smaller Than an Atom? Atomic Structure
Chapter 4: The Periodic Table (But No Chairs)
Chapter 5: Nuclear Chemistry: It'll Blow Your Mind
Part II: Blessed Be the Bonds That Tie
Chapter 6: Opposites Do Attract: Ionic Bonds
Chapter 7: Covalent Bonds: Let's Share Nicely
Chapter 8: Chemical Cooking: Chemical Reactions
Chapter 9: Electrochemistry: Batteries to Teapots
Part III: The Mole: The Chemist's Best Friend
Chapter 10: The Mole: Can You Dig It?
Chapter 11: Mixing Matter Up: Solutions
Chapter 12: Sour and Bitter: Acids and Bases
Chapter 13: Balloons, Tires, and Scuba Tanks: The Wonderful World of Gases
Part IV: Chemistry in Everyday Life: Benefits and Problems
Chapter 14: The Chemistry of Carbon: Organic Chemistry
Chapter 15: Petroleum: Chemicals for Burning or Building
Chapter 16: Polymers: Making Big Ones from Little Ones
Chapter 17: Chemistry in the Home
Chapter 18: Cough! Cough! Hack! Hack! Air Pollution
Chapter 19: Brown, Chunky Water? Water Pollution
Part V: The Part of Tens
Chapter 20: Ten Serendipitous Discoveries in Chemistry
Chapter 21: Ten Great Chemistry Nerds
Chapter 22: Ten Useful Chemistry Web Sites

Free download Chemistry For Dummies written by John T. Moore in pdf from following download links.

Kindly follow the instructions to unlock the download link(s). Sometimes download link(s) is/are not visible on mobile devices, so if you face this issue, kindly do visit this page via laptop/desktop computer.

Password for Download Links: chemistry.com.pk

File Size: 27.1MB. Pages: 385. Download Instructions. Please read Disclaimer.

You may also like to download
Free Download Hundreds of Best-Selling Chemistry Books from HERE.
P.S: If the download link(s) is/are not working, kindly drop a comment below, so we'll update the download link for you.
Happy reading!