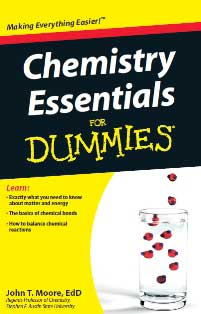 Chemistry Essentials for Dummies is written by John T. Moore, EdD (Regents Professor of Chemistry, Stephen F. Austin State University) and published by Wiley Publication Inc. in 2010.
Table of Contents of this Book
Matter and Energy: Exploring the Stuff of Chemistry
What's In an Atom?
The Periodic Table
Nuclear Chemistry
Ionic Bonding
Covalent Bonding
Chemical Reactions
Electrochemistry: Using Electrons
Measuring Substances with the Mole
A Salute to Solutions
Acids and Bases
Clearing the Air on Gases
Ten Serendipitous Discoveries in Chemistry
Free download Chemistry Essentials for Dummies by John T. Moore, EdD by clicking on following download button. This is an external download link and found free from viruses.

Size: 1.48 MB
Download Instruction
After opening download link press ctrl + S to save this book OR click on file menu a drop down menu will open than click on Download to save this book.