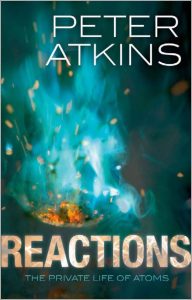 Free download REACTIONS The Private Life of Atoms written by Peter Atkins in pdf.
As per author, "Chemistry is thought to be an arcane subject, one from which whole populations seems to have recoiled, and one that many think can be understood only by the monkishly initiated. It is thought to be abstract because all its explanations are in terms of scarcely imaginable atoms. But, in fact, once you accept that atoms are real and imaginable as they go about their daily lives, the theatre of chemical change becomes open to visualization.
In this book I have set out to help you understand and visualize the private lives of atoms to that when you look at chemical change—and chemical change is all around and within us, from the falling of a leaf through the digestion of food to the beating of a heart and even the forming of a thought, let alone the great industrial enterprises that
manufacture the modern world—you will be able to imagine what is going on at a molecular scale. In the sections that follow, I invite you to imagine constructing a toolbox of fundamental processes which will enable you to imagine levering one atom away from its partner and encouraging it to join another. Then, with those basic tools in mind, I help you to establish a workshop where you will assemble to tools and bring them to bear on a variety of projects. Finally, I introduce you, in outline but not in detail, to how those workshops are invoked to engineer certain grand projects of construction."
Con

tents

PART I: The Basic Tools
A Preliminary Remark: Water and Friends
Matter Falling Out
Give and Take
Burns Night
Back to Basics
Two Hands Clapping
Electric Occurrence
The Generation Game
The Death of Metal
Civil Partnerships
Changing Partners
Marriage Broking
Divorce and reconciliation
PART II: Assembling the Workshop
Stringing Along
Snapping Together 10215. Missile Deployment
Electronic Warfare
Fasteners
Zippers
Adding Up
Taking Away
Carbon Footprints
Networking Opportunities
PART III: Making Light Work
Dark Matter
Irritating Atmospheres
Seeing the Light
Green Chemistry
PART IV: Building by Design
Food for Thought
Grand Designs
PART V: Economizing
Free download REACTIONS The Private Life of Atoms written by Peter Atkins in pdf from following download links.
Follow these instructions to unlock the download links. Sometimes download link(s) is/are not visible on mobile devices, so if you face this issue, kindly do visit this page via laptop/desktop computer.
Password for Download Links: chemistry.com.pk
File Size: 4.16MB. Pages: 200. Download Instructions. Please read Disclaimer.
Don't forget to drop a comment below after downloading this book.
You may also like to free download
Free Download Hundreds of Best-Selling Chemistry Books from HERE.
P.S: If the download link(s) is/are not working, kindly drop a comment below, so we'll update the download link for you.
Happy downloading!