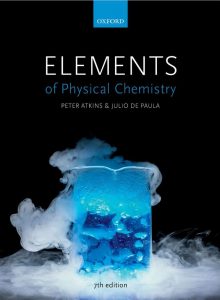 Free download Elements of Physical Chemistry (7th Edition) written by Peter Atkins and Julio de Paula in pdf published in 2017.
The ideal course text for those new to the subject, Elements of Physical Chemistry covers the fundamentals of physical chemistry in a straightforward, easy-to digest way. Extensive mathematical and pedagogical support enables students to gain a deeper understanding of this core branch of chemistry.
Experienced author team renowned for rigorous but accessible explanations of concepts in physical chemistry.

Chemist's toolkits present essential background material on mathematics right where and when they are needed.

Students are further supported in their learning by the provision of features such as notes on good practice, key concept checklists, and equation labels and annotations.

Frequent self-test questions allow students to check their understanding as they progress through the material, while end-of-focus exercises and problems help to consolidate problem solving skills.

Over 700 illustrations, many of them new, help to clarify the concepts, especially for visual learners.

Also available as an e-book with functionality, navigation features, and links that offer extra learning support
New to this edition
Radically updated structure to help improve digestibility and flexibility; material has been broken down into short 'Topics' which are organised into 'Focus' sections.

A new 'collect your thoughts' feature shows students how they might go about approaching a particular problem.

Three questions posed at the beginning of each Topic explain why it is important, what the key idea is, and what the student already needs to know.

'Impact' sections, newly available online, show the application of physical chemistry in a diverse range of modern contexts.

Many derivations and worked examples now include more intermediate steps, helping students gain a deeper understanding of the underlying mathematics.
Con

tents
Energy, temperature, and chemistry
The properties of gases
The First Law of thermodynamics
The Second Law of thermodynamics
Physical transformations
Chemical change
Chemical kinetics
Quantum theory
Atomic structure
Molecular interactions
Molecular spectroscopy
Statistical thermodynamics
Magnetic resonance
Macromolecules and aggregates
Solids
Free download Elements of Physical Chemistry (7th Edition) written by Peter Atkins and Julio de Paula in pdf from following download links.
Follow these instructions to unlock the download links. Sometimes download link(s) is/are not visible on mobile devices, so if you face this issue, kindly do visit this page via laptop/desktop computer.
Password for Download Links: chemistry.com.pk
File Size: 110MB. Pages: 2190. Download Instructions. Please read Disclaimer.
You can also buy Elements of Physical Chemistry (7th Edition) written by Peter Atkins and Julio de Paula from Amazon by Clicking the image below.
Don't forget to drop a comment below after downloading this book.
You may also like to free download:
Free Download Hundreds of Best-Selling Chemistry Books from HERE.
P.S: If the download link(s) is/are not working, kindly drop a comment below, so we'll update the download link for you.
Happy downloading!