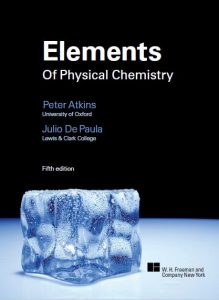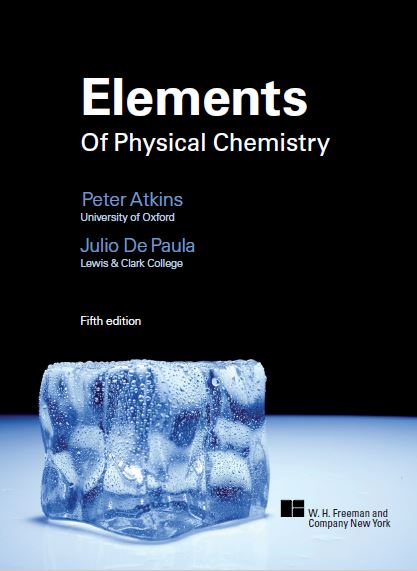 Free download Elements of Physical Chemistry (5th edition) written by Peter Atkins and Julio de Paula in pdf. published by Great Britain in 2009.
According to the authors; When a book enters its fifth edition you might expect a certain maturity and a settling down into a comfortable middle if not old age. We hope you will identify the former but not the latter. We learn enormously from each new edition and like to refresh the exposition and introduce new ideas at every opportunity. We hope that you will see maturity certainly but also a new vibrancy in this edition.
The structure of the book remains much the same as in the fourth edition, but with a small reorganization of chapters, such as the reversal of the order of the groups of chapters on Materials. We have also brought together under various umbrella titles the related chapters to give a greater sense of cohesion. Thus there is a Chemical Equilibrium family, a Chemical Kinetics family, a Quantum Chemistry family, a Materials family, and a Spectroscopy family. Throughout the text we have had in mind one principal objective: to ensure that the coverage is appropriate to a single compact physical chemistry course. As a result, we have eliminated some material but (with our eyes alert to the dangers of expanding the text unduly) have strengthened the discussion of a wide range of topics.
Con

tents
Introduction
The properties of gases
Thermodynamics: the first law
Thermodynamics: applications of the First Law
Thermodynamics: the Second Law
Physical equilibria: pure substances
The properties of mixtures
Chemical equilibrium: the principles
Chemical equilibrium: equilibria in solution
Chemical equilibrium: electrochemistry
Chemical kinetics: the rates of reactions
Chemical kinetics: accounting for the rate laws
Quantum theory
Quantum chemistry: atomic structure
Quantum chemistry: the chemical bond
Molecular interactions
Materials: macromolecules and aggregates
Metallic, ionic, and covalent solids
Solid surfaces
Spectroscopy: molecular rotations and vibrations
Spectroscopy: electronic transitions and photochemistry
Spectroscopy: magnetic resonance
Statistical thermodynamics
Free download Elements of Physical Chemistry (5th edition) written by Peter Atkins and Julio de Paula in pdf. from following download links.
Kindly follow the instructions to unlock the download link(s). Sometime download link(s) is/are not visible on mobile devices, so if you face this issue, kindly do visit this page via laptop/desktop computer.
[sociallocker id=1417]
[/sociallocker]
File Size: 26.2 MB. Pages: 600. Kindly read the disclaimer.
Don't forget to comment below if you successfully downloaded  this book. ?
You may also like to download Atkins' Physical Chemistry 8th Edition.
P.S: If the download link(s) is/or not working, kindly drop a comment below so we could update the download link for you.
Happy downloading 🙂