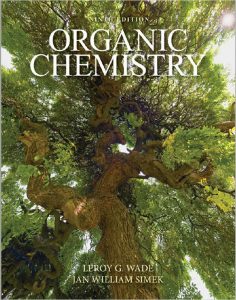 Free download Organic Chemistry (9th Edition) written by Leroy G. Wade Jr. and Jan William Simek in pdf.
As per author, "In writing this book, I've tried to point out a small number of important facts and principles that should be learned to prepare for solving problems. For example, of the hundreds of reaction mechanisms shown in this book, about 20 are the fundamental mechanistic steps that combine into the longer, more complicated mechanisms. I've highlighted these fundamental mechanisms in Key Mechanism boxes to alert you to their importance. Similarly, the Guide to Organic Reactions appears in six chapters that contain large numbers of new reactions. This guide outlines the kinds of reactions we cover and shows how the reactions just covered fit into the overall organization.
Spectroscopy is another area in which a student might feel pressured to memorize hundreds of facts, such as NMR chemical shifts and infrared vibration frequencies. I couldn't do that, so I've always gotten by with knowing about a dozen NMR chemical shifts and about a dozen IR vibration frequencies, and knowing how they are affected by other influences. I've listed those important infrared frequencies in Table 12-2 and the important NMR chemical shifts in Table 13-3.
Con

tents
Structure and Bonding
Acids and Bases; Functional Groups
Structure and Stereochemistry of Alkanes
The Study of Chemical Reactions
Stereochemistry
Alkyl Halides; Nucleophilic Substitution
Structure and Synthesis of Alkenes; Elimination
Reactions of Alkenes
Alkynes
Structure and Synthesis of Alcohols
Reactions of Alcohols
Ethers, Epoxides, and Thioethers
Conjugated Systems, Orbital Symmetry, and Ultraviolet Spectroscopy
Aromatic Compounds
Reactions of Aromatic Compounds
Ketones and Aldehydes
Amines
Carboxylic Acids
Carboxylic Acid Derivatives
Condensations and Alpha Substitutions of Carbonyl Compounds
Carbohydrates and Nucleic Acids
Amino Acids, Peptides, and Proteins
Lipids
Synthetic Polymers
Free download Organic Chemistry (9th Edition) written by Leroy G. Wade Jr. and Jan William Simek in pdf from following download links.
Follow these instructions to unlock the download links. Sometimes download link(s) is/are not visible on mobile devices, so if you face this issue, kindly do visit this page via laptop/desktop computer.
Password for Download Links: chemistry.com.pk
File Size: 106MB. Pages: 1396. Download Instructions. Please read Disclaimer.
Don't forget to drop a comment below after downloading this book.
You may also like to free download:
Free Download Hundreds of Best-Selling Chemistry Books from Here.
P.S: If the download link(s) is/are not working, kindly drop a comment below, so we'll update the download link for you.
Happy downloading and Happy Reading!