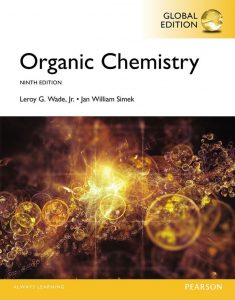 Free download Organic Chemistry (9th Global Edition) By Leroy G. Wade Jr. and Jan William Simek in pdf published in 2017.
This book works well for learning organic chemistry, and this version isn't very different from the previous version, it just has some slightly different homework problems (although most are the same, just numbered differently) and there are some charts in the chapter summaries that are very useful.
Wade & Simek's Ninth Edition of Organic Chemistry presents key principles of organic chemistry in the context of fundamental reasoning and problem solving. Authored to complement how students use a textbook today, new Problem Solving Strategies, Partially Solved Problems, Visual Reaction Guides and Reaction Starbursts encourage students to use the text before class as a primary introduction to organic chemistry as well as a comprehensive study tool for working problems and/or preparing for exams. With unparalleled and highly refined pedagogy, this Ninth edition gives students a contemporary overview of organic principles and the tools for organizing and understanding reaction mechanisms and synthetic organic chemistry.
Con

tents
Structure and Bonding
Acids and Bases; Functional Groups
Structure and Stereochemistry of Alkanes
The Study of Chemical Reactions
Stereochemistry
Alkyl Halides; Nucleophilic Substitution
Structure and Synthesis of Alkenes; Elimination
Reactions of Alkenes
Alkynes
Structure and Synthesis of Alcohols
Reactions of Alcohols
Infrared Spectroscopy and Mass Spectrometry
Nuclear Magnetic Resonance Spectroscopy
Ethers, Epoxides, and Thioethers
Conjugated Systems, Orbital Symmetry, and Ultraviolet Spectroscopy
Aromatic Compounds
Reactions of Aromatic Compounds
Ketones and Aldehydes
Amines
Carboxylic Acids
Carboxylic Acid Derivatives
Condensations and Alpha Substitutions of Carbonyl Compounds
Carbohydrates and Nucleic Acids
Amino Acids, Peptides, and Proteins
Lipids
Synthetic Polymers
Free download Organic Chemistry (9th Global Edition) By Leroy G. Wade Jr. and Jan William Simek in pdf from following download links.
Follow these instructions to unlock the download links. Sometimes download link(s) is/are not visible on mobile devices, so if you face this issue, kindly do visit this page via laptop/desktop computer.
[sociallocker id=1417]
[/sociallocker]
File Size: 36.2MB. Pages: 403. Download Instructions. Please read Disclaimer.
Don't forget to drop a comment below after downloading this book.
You may also like to free download Organic Chemistry as a Second Language Second Semester Topics (5th Edition) written by David Klein in pdf.
P.S: If the download link(s) is/are not working, kindly drop a comment below, so we'll update the download link for you.
Happy downloading!