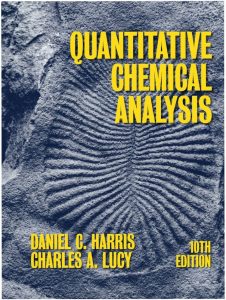 Free download Quantitative Chemical Analysis (10th edition) written by Daniel C. Harris and Charles A. Lucy in pdf.
The goal of the tenth edition, like previous editions, is to give students the opportunity to attain a deep understanding of analytical chemistry. The authors believe this is best accomplished when the material is explained fully and carefully, and illustrated with concrete, interesting examples. Quantitative Chemical Analysis sets itself apart with its careful explanations and is well known as a readable, interesting, and friendly textbook.
A focus on graphing and data analysis. The tenth edition has an increased emphasis on graphing and data analysis using scatter plots, calibration curves, and residual plots, and many new problems to reinforce these skills.
A Rigorous Approach, Written to Teach:
As always, the authors strive to provide
A sound physical understanding of the principles of analytical chemistry
Representations of how these principles apply to chemistry and related disciplines, especially life sciences and environmental sciences
An approach that is both rigorous and readable, lucid enough for non-chemistry majors but detailed enough for advanced undergraduates
Classic Coverage with Important Updates:
This edition includes important updates to the content, including
Enhanced discussion of spectrophotometry and chromatography
New illustrations of current analytical methods
Increased emphasis on graphing and inspection of data
Citations from current research, including publications by undergraduate student researchers
Con

tents
The Analytical Process
Tools of the Trade
Experimental Error
Statistics
Quality Assurance and Calibration Methods
Chemical Equilibrium
Let the Titrations Begin
Activity and the Systematic Treatment of Equilibrium
Monoprotic Acid-Base Equilibria
Polyprotic Acid-Base Equilibria
Acid-Base Titrations
EDTA Titrations
Advanced Topics in Equilibrium
Electrodes and Potentiometry
Redox Titrations
Electroanalytical Techniques
Fundamentals of Spectrophotometry
Applications of Spectrophotometry
Spectrophotometers
Atomic Spectroscopy
Introduction to Analytical Separations
Gas Chromatography
High-Performance Liquid Chromatography
Chromatographic Methods and Capillary Electrophoresis
Gravimetric and Combustion Analysis
Sample Preparation
Free download Quantitative Chemical Analysis (10th edition) written by Daniel C. Harris and Charles A. Lucy in pdf from following download links.
Follow these instructions to unlock the download links. Sometimes download link(s) is/are not visible on mobile devices, so if you face this issue, kindly do visit this page via laptop/desktop computer.
Password for Download Links: chemistry.com.pk
File Size: 334MB. Pages: 2196. Download Instructions. Please read Disclaimer.
You can also buy Quantitative Chemical Analysis (10th edition) written by Daniel C. Harris and Charles A. Lucy from Amazon by Clicking the image below.

You may also like to free download:
Free Download Hundreds of Best-Selling Chemistry Books from HERE.
P.S: If the download link(s) is/are not working, kindly drop a comment below, so we'll update the download link for you.
Happy downloading!