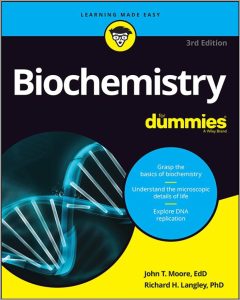 Free download Biochemistry for Dummies (3rd edition) written by John T. Moore and Richard H. Langley in pdf.
Biochemistry For Dummies is an overview of the material covered in a typical college-level biochemistry course. In this third edition, we update the content and correct the errors and omissions that crept into the first two editions. We hope that this edition is of even more help than the second. We've made every attempt to keep the material as current as possible, but the field is changing ever so quickly.
The basics, however, stay the same, and that's where we concentrate our efforts. We also include information on some of the applications of biochemistry that you read about in your everyday life, such as forensics, cloning, gene therapy, genetic testing, and genetically modified foods.
If you're taking a biochemistry course, use this rather inexpensive book to supplement that very expensive biochemistry textbook. If you bought this book to gain general knowledge about a fascinating subject, try not to get bogged down in the details. Skim the chapters. If you find a topic that interests you, stop and dive in. Have fun learning something new. You don't have a whole lot of money invested in this book, so don't feel obligated to read everything.
Con

tents

Part 1: Setting the Stage: Basic Biochemistry Concepts
Biochemistry: What You Need to Know and Why
Seems So Basic: Water Chemistry and pH
Fun with Carbon: Organic Chemistry
Part 2: The Meat of Biochemistry: Proteins
Amino Acids: The Building Blocks of Protein
Protein Structure and Function
Enzyme Kinetics: Getting There Faster
Part 3: Carbohydrates, Lipids, Nucleic Acids, and More, Oh My!
What We Crave: Carbohydrates
Lipids and Membranes
Nucleic Acids and the Code of Life
Vitamins: Both Simple and Complex
Hormones: The Body's Messengers
Part 4: Bioenergetics and Pathways
Life and Energy
ATP: The Body's Monetary System
Smelly Biochemistry: Nitrogen in Biological Systems
Part 5: Genetics: Why We Are What We Are
Photocopying DNA
Transcribe This! RNA Transcription
Translation: Protein Synthesis
Part 6: The Part of Tens
Ten Great Applications of Biochemistry
Ten Biochemistry Careers
Free download Biochemistry for Dummies (3rd edition) written by John T. Moore and Richard H. Langley in pdf from following download links.
Follow these instructions to unlock the download links. Sometimes download link(s) is/are not visible on mobile devices, so if you face this issue, kindly do visit this page via laptop/desktop computer.
Password for Download Links: chemistry.com.pk
File Size: 13.8MB. Pages: 451. Download Instructions. Please read Disclaimer.
You can also buy Biochemistry for Dummies (3rd edition) written by John T. Moore and Richard H. Langley from Amazon by Clicking the image below.

Don't forget to drop a comment below after downloading this book.
You may also like to free download
Free Download Hundreds of Best-Selling Chemistry Books from HERE.
P.S: If the download link(s) is/are not working, kindly drop a comment below, so we'll update the download link for you.
Happy downloading!