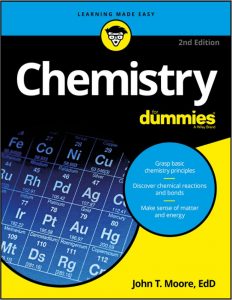 Free download Chemistry For Dummies (2nd edition) written by John T. Moore in pdf.
As per writer, "My goal with this book is not to make you into a chemistry major. My goal is simply to give you a basic understanding of some chemical topics that commonly appear in high school or college introductory chemistry courses. If you're taking a course, use this book as a reference in conjunction with your notes and textbook.
Simply watching people play tennis, no matter how intently you watch them, will not make you a tennis star. You need to practice. And the same is true with chemistry. It's not a spectator sport. If you're taking a chemistry course, then you need to practice and work on problems. I show you how to work certain types of problems — gas laws, for example — but use your textbook for practice problems. It's work, yes, but it really can be fun.
As I updated this second edition of Chemistry For Dummies, I reflected on what to include. I've enjoyed getting e-mails from people all over the world asking questions about the first edition or thanking me. However, looking at the overall feedback, I felt that I hadn't included quite enough about calculations and some other topics that students taking a college or high school–level class really needed. So in this second edition I beefed up the calculations and included some extra topics normally found in the first year of high school chemistry or the first semester of general chemistry in college. Overall, this edition will be more useful to those of you taking the chemistry course.
Con

tents

Part I: The Basic Concepts of Chemistry
What Is Chemistry, and Why Do I Need to Know Some?
Contemplating Chemical Calculations
Matter and Energy
Something Smaller Than an Atom? Atomic Structure
The Periodic Table (But No Chairs)
Balloons, Tires, and Scuba Tanks: The Wonderful World of Gases
Part II: A Cornucopia of Chemical Concepts
Chemical Cooking: Chemical Reactions
The Mole: Can You Dig It?
Mixing Matter Up: Solutions
Thermochemistry: Hot Stuff
Sour and Bitter: Acids and Bases
Part III: Blessed Be the Bonds That Tie
Where Did I Put That Electron? Quantum Theory
Opposites Do Attract: Ionic Bonding
Sharing Nicely: Covalent Bonding
What Do Molecules Really Look Like? Molecular Geometry and Hybridization
Tackling Periodic Trends
Examining the Link between Intermolecular Forces and Condensed States
Part IV: Environmental Chemistry: Benefits and Problems
Cough! Cough! Hack! Hack! Air Pollution
Examining the Ins and Outs of Water Pollution
Nuclear Chemistry: It'll Blow Your Mind
Part V: The Part of Tens
Ten Serendipitous Discoveries in Chemistry
Ten (Or So) Great Chemistry Nerds
Ten Terrific Tips for Passing Chem I
The Top Ten Industrial Chemicals
Free download Chemistry For Dummies (2nd edition) written by John T. Moore in pdf from following download links.
Kindly follow the instructions to unlock the download link(s). Sometime download link(s) is/are not visible on mobile devices, so if you face this issue, kindly do visit this page via laptop/desktop computer.
Password for Download Links: chemistry.com.pk
File Size: 8.3 MB. Pages: 458. Download Instructions. Kindly read the disclaimer.
You can also buy Chemistry For Dummies (2nd Edition) By John T. Moore from Amazon by Clicking the image below.

You may also like to free download
Free Download Hundreds of Best-Selling Chemistry Books from HERE.
P.S: If the download link(s) is/are not working, kindly drop a comment below, so we'll update the download link for you.
Happy downloading!