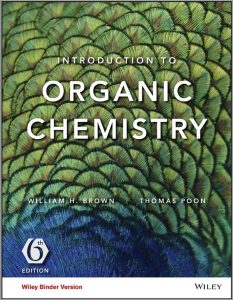 Free download Introduction to Organic Chemistry (6th edition) written by William H. Brown and Thomas Poon in pdf.
This text is designed for an introductory course in organic chemistry and assumes, as background, a prior course of general chemistry. Both its form and content have been shaped by our experiences in the classroom and by our assessment of the present and future direction of the brief organic course.
A brief course in organic chemistry must achieve several goals. First, most students who elect this course are oriented toward careers in science, but few if any intend to become professional chemists; rather, they are preparing for careers in areas that require a grounding in the essentials of organic chemistry.
Here is the place to examine the structure, properties, and reactions of rather simple molecules. Students can then build on this knowledge in later course work and professional life.
Second, an introductory course must portray something of the scope and content of organic chemistry as well as its tremendous impact on the ways we live and work. To do this, we have included specific examples of pharmaceuticals, plastics, soaps and detergents, natural and synthetic textile fibers, petroleum refining, petrochemicals, pesticides, artificial flavoring agents, chemical ecology, and so on at appropriate points in the text.
Con

tents
Covalent Bonding and Shapes of Molecules
Acids and Bases
Alkanes and Cycloalkanes
Alkenes and Alkynes
Reactions of Alkenes and Alkynes
Chirality: The Handedness of Molecules
Haloalkanes
Alcohols, Ethers, and Thiols
Benzene and Its Derivatives
Amines
Aldehydes and Ketones
Carboxylic Acids
Functional Derivatives of Carboxylic Acids
Enolate Anions
Organic Polymer Chemistry
Carbohydrates
Amino Acids and Proteins
Lipids
Nucleic Acids
The Organic Chemistry of Metabolism
Free download Introduction to Organic Chemistry (6th edition) written by William H. Brown and Thomas Poon in pdf from following download links.
Kindly follow the instructions to unlock the download link(s). Sometime download link(s) is/are not visible on mobile devices, so if you face this issue, kindly do visit this page via laptop/desktop computer.
Password for Download Links: chemistry.com.pk
File Size: 15.2 MB. Pages: 723. Download Instructions. Kindly read the disclaimer.
You can also buy Introduction to Organic Chemistry (6th Edition) By William H. Brown and Thomas Poon from Amazon by Clicking the image below.

You may also like to free download
P.S: If the download link(s) is/are not working, kindly drop a comment below, so we'll update the download link for you.
Happy downloading!