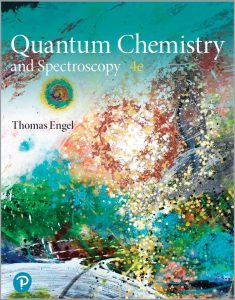 Free download Physical Chemistry, Quantum Chemistry and Spectroscopy (4th edition) written by Thomas Engel in pdf.
The fourth edition of Quantum Chemistry and Spectroscopy includes many changes to the presentation and content at both a global and chapter level. These updates have been made to enhance the student learning experience and update the discussion of research areas. At the global level, changes that readers will see throughout the textbook include:
• Review of relevant mathematics skills. One of the primary reasons that students experience physical chemistry as a challenging course is that they find it difficult to transfer skills previously acquired in a mathematics course to their physical chemistry course. To address this issue, contents of the third edition Math Supplement have been expanded and split into 11 two- to five-page Math Essentials, which are inserted at appropriate places throughout this book, as well as in the companion volume Thermodynamics, Statistical Thermodynamics, and Kinetics, just before the math skills are required. Our intent in doing so is to provide "just-in-time" math help and to enable students to refresh math skills specifically needed in the following chapter.
• Concept and Connection. A new Concept and Connection feature has been added to each chapter to present students with a quick visual summary of the most important ideas within the chapter. In each chapter, approximately 10–15 of the most important concepts and/or connections are highlighted in the margins.
• End-of-Chapter Problems. Numerical Problems are now organized by section number within chapters to make it easier for instructors to create assignments for specific parts of each chapter. Furthermore, a number of new Conceptual Questions and Numerical Problems have been added to the book. Numerical Problems from the previous edition have been revised.
Con

tents
From Classical to Quantum Mechanics
The Schrödinger Equation
The Quantum-Mechanical Postulates
Applying Quantum-Mechanical Principles to Simple Systems
Applying the Particle in the Box Model to Real-World Topics
Commuting and Noncommuting Operators and the Surprising Consequences of Entanglement
A Quantum-Mechanical Model for the Vibration and Rotation of Molecules
Vibrational and Rotational Spectroscopy of Diatomic Molecules
The Hydrogen Atom
Many-Electron Atoms
Quantum States for Many-Electron Atoms and Atomic Spectroscopy
The Chemical Bond in Diatomic Molecules
Molecular Structure and Energy Levels for Polyatomic Molecules
Molecular Symmetry and an Introduction to Group Theory
Free download Physical Chemistry, Quantum Chemistry and Spectroscopy (4th edition) written by Thomas Engel in pdf from following download links.
Kindly follow the instructions to unlock the download link(s). Sometime download link(s) is/are not visible on mobile devices, so if you face this issue, kindly do visit this page via laptop/desktop computer.
Password for Download Links: chemistry.com.pk
File Size: 69.3 MB. Pages: 570. Download Instructions. Kindly read the disclaimer.
You may also like to free download
Free Download Hundreds of Best-Selling Chemistry Books from HERE.
P.S: If the download link(s) is/are not working, kindly drop a comment below, so we'll update the download link for you.
Happy downloading!