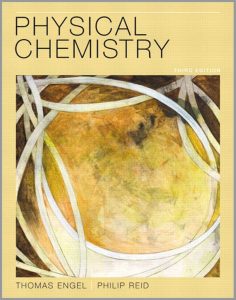 Free download Physical Chemistry (3rd edition) written by Thomas Engel and Philip Reid in pdf.
The third edition of this book builds on user and reviewer comments on the previous editions. Our goal remains to provide students with an accessible overview of the whole field of physical chemistry while focusing on basic principles that unite the subdisciplines of the field. We continue to present new research developments in the field to emphasize the vibrancy of physical chemistry.
Many chapters have been extensively revised as described below. We include additional end-of-chapter concept problems and most of the numerical problems have been revised. The target audience remains undergraduate students majoring in chemistry, biochemistry, and chemical engineering, as well as many students majoring in the atmospheric sciences and the biological sciences.
Con

tents
Heat, Work, Internal Energy, Enthalpy, and the First Law of Thermodynamics
The Importance of State Functions: Internal Energy and Enthalpy
Thermochemistry
Entropy and the Second and Third Laws of Thermodynamics
Chemical Equilibrium
The Properties of Real Gases
Phase Diagrams and the Relative Stability of Solids, Liquids, and Gases
Ideal and Real Solutions
Electrolyte Solutions
Electrochemical Cells, Batteries, and Fuel Cells
From Classical to Quantum Mechanics
The Schrödinger Equation
The Quantum Mechanical Postulates
Using Quantum Mechanics on Simple Systems
The Particle in the Box and the Real World
Commuting and Noncommuting Operators and the Surprising Consequences of Entanglement
A Quantum Mechanical Model for the Vibration and Rotation of Molecules
The Vibrational and Rotational Spectroscopy of Diatomic Molecules
The Hydrogen Atom
Many-Electron Atoms
Quantum States for Many-Electron Atoms and Atomic Spectroscopy
The Chemical Bond in Diatomic Molecules
Molecular Structure and Energy Levels for Polyatomic Molecules
Molecular Symmetry
Nuclear Magnetic Resonance Spectroscopy
Probability
The Boltzmann Distribution
Ensemble and Molecular Partition Functions
Statistical Thermodynamics
Kinetic Theory of Gases
Transport Phenomena
Elementary Chemical Kinetics
Complex Reaction Mechanisms
Free download Physical Chemistry (3rd edition) written by Thomas Engel and Philip Reid in pdf from following download links.
Kindly follow these instructions to unlock the download link(s). Sometime download link(s) is/are not visible on mobile devices, so if you face this issue, kindly do visit this page via laptop/desktop computer.
Password for Download Links: chemistry.com.pk
File Size: 27.8 MB. Pages: 1130. Download Instructions. Kindly read the disclaimer.
You may also like to free download
Free Download Hundreds of Best-Selling Chemistry Books from HERE.
P.S: If the download link(s) is/are not working, kindly drop a comment below, so we'll update the download link for you.
Happy downloading!