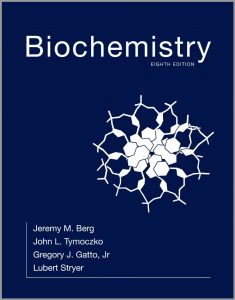 Free download Biochemistry (8th edition) written by Jeremy M. Berg, John L. Tymoczko, Gregory J. Gatto, Jr. and Lubert Stryer in pdf.
For several generations of students and teachers, Biochemistry has been an invaluable resource, presenting the concepts and details of molecular structure, metabolism, and laboratory techniques in a streamlined and engaging way. Biochemistry's success in helping students learn the subject for the first time is built on a number of hallmark features:
• Clear writing and simple illustrations. The language of biochemistry is made as accessible as possible for students learning the subject for the first time. To complement the straightforward language and organization of concepts in the text, figures illustrate a single concept at a time to help students see main points without the distraction of excess detail.
Physiological relevance. It has always been our goal to help students connect biochemistry to their own lives on a variety of scales. Pathways and processes are presented in a physiological context so students can see how biochemistry works in the body and under different conditions, and Clinical Application sections in every chapter show students how the concepts they are studying impact human health. The eighth edition includes a number of new Clinical Application sections based on recent discoveries in biochemistry and health.
Con

tents

Part I: The Molecular Design of Life
Biochemistry: An Evolving Science
Protein Composition and Structure
Exploring Proteins and Proteomes
DNA, RNA, and the Flow of Genetic Information
Exploring Genes and Genomes
Exploring Evolution and Bioinformatics
Hemoglobin: Portrait of a Protein in Action
Enzymes: Basic Concepts and Kinetics
Catalytic Strategies
Regulatory Strategies
Carbohydrates
Lipids and Cell Membranes
Membrane Channels and Pumps
Signal-Transduction Pathways
Part II: Transducing And Storing Energy
Metabolism: Basic Concepts and Design
Glycolysis and Gluconeogenesis
The Citric Acid Cycle
Oxidative Phosphorylation
The Light Reactions of Photosynthesis
The Calvin Cycle and the Pentose Phosphate Pathway
Glycogen Metabolism
Fatty Acid Metabolism
Protein Turnover and Amino Acid Catabolism
Part III: Synthesizing The Molecules of Life
The Biosynthesis of Amino Acids
Nucleotide Biosynthesis
The Biosynthesis of Membrane Lipids and Steroids
The Integration of Metabolism
DNA Replication, Repair, and Recombination
RNA Synthesis and Processing
Protein Synthesis
The Control of Gene Expression in Prokaryotes
The Control of Gene Expression in Eukaryotes
Part IV: Responding To Environmental Changes
Sensory Systems
The Immune System
Molecular Motors
Drug Development
Free download Biochemistry (8th edition) written by Jeremy M. Berg, John L. Tymoczko, Gregory J. Gatto, Jr. and Lubert Stryer in pdf from following download links.
Kindly follow these instructions to unlock the download link(s). Sometime download link(s) is/are not visible on mobile devices, so if you face this issue, kindly do visit this page via laptop/desktop computer.
Password for Download Links: chemistry.com.pk
File Size: 53.0 MB. Pages: 1227. Download Instructions. Kindly read the disclaimer.
You may also like to free download
Free Download Hundreds of Best-Selling Chemistry Books from HERE.
P.S: If the download link(s) is/are not working, kindly drop a comment below, so we'll update the download link for you.
Happy downloading!