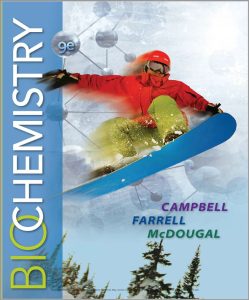 Free download Biochemistry (9th edition) written by Mary K. Campbell, Shawn O. Farrell and Owen M. McDougal in pdf.
This text is intended for students in any field of science or engineering who want a one-semester introduction to biochemistry but who do not intend to be biochemistry majors. Our main goal in writing this book is to make biochemistry as clear and applied as possible and to familiarize science students with the major aspects of biochemistry. For students of biology, chemistry, physics, geology, nutrition, sports physiology, and agriculture, biochemistry impacts greatly on the content of their fields, especially in the areas of medicine and biotechnology.
For engineers, studying biochemistry is especially important for those who hope to enter a career in biomedical engineering or some form of biotechnology. Students who will use this text are at an intermediate level in their studies. A beginning biology course, general chemistry, and at least one semester of organic chemistry are assumed as preparation.
Con

tents
Water: The Solvent for Biochemical Reactions ­­Amino Acids and Peptides
The Three-Dimensional Structure of Proteins
Protein Purification and Characterization Techniques
The Behavior of Proteins: Enzymes
The Behavior of Proteins: Enzymes, Mechanisms, and Control
Lipids and Proteins Are Associated in Biological Membranes
Nucleic Acids: How Structure Conveys Information
Biosynthesis of Nucleic Acids: Replication
Protein Synthesis: Translation of the Genetic Message
Nucleic Acid Biotechnology Techniques
Viruses, Cancer, and Immunology
The Importance of Energy Changes and Electron Transfer in Metabolism
Carbohydrates
Glycolysis
Storage Mechanisms and Control in Carbohydrate Metabolism
The Citric Acid Cycle
Electron Transport and Oxidative Phosphorylation
Lipid Metabolism
Photosynthesis
The Metabolism of Nitrogen
Integration of Metabolism: Cellular Signaling
Free download Biochemistry (9th edition) written by Mary K. Campbell, Shawn O. Farrell and Owen M. McDougal in pdf from following download links.
Follow these instructions to unlock the download links. Sometimes download link(s) is/are not visible on mobile devices, so if you face this issue, kindly do visit this page via laptop/desktop computer.
Password for Download Links: chemistry.com.pk
File Size: 100 MB. Pages: 866. Download Instructions. Please read Disclaimer.
You may also like to free download:
Free download hundreds of best-selling chemistry books from HERE.
P.S: If the download link(s) is/are not working, kindly drop a comment below, so we'll update the download link for you.
Happy downloading!