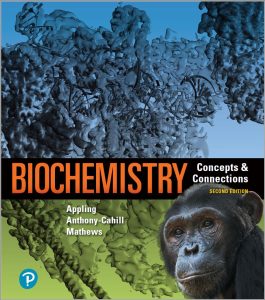 Free download Biochemistry: Concepts and Connections (2nd edition) written by Dean R. Appling, Spencer J. Anthony-Cahill and Christopher K. Mathews in pdf.
As genomics and informatics revolutionize biomedical science and health care, we must prepare students for the challenges of the twenty first century and ensure their ability to apply quantitative reasoning skills to the science most fundamental to medicine: biochemistry.
We have written Biochemistry: Concepts and Connections to provide students with a clear understanding of the chemical logic underlying the mechanisms, pathways, and processes in living cells. The title reinforces our vision for this book—twin emphases upon fundamental concepts at the expense of lengthy descriptive information, and upon connections, showing how biochemistry relates to all other life sciences and to practical applications in medicine, agricultural sciences, environmental sciences, and forensics.
Inspired by our experience as authors of the biochemistry majors' text, Biochemistry, Fourth Edition and the first edition of this book, and as teachers of biochemistry majors' and mixed-science-majors' courses, we believe there are several requirements that a textbook for the mixed-majors' course must address:
The need for students to understand the structure and function of biological molecules before moving into metabolism and dynamic aspects of biochemistry.
The need for students to understand that biochemical concepts derive from experimental evidence, meaning that the principles of biochemical techniques must be presented to the greatest extent possible.
The need for students to encounter many and diverse real-world applications of biochemical concepts.
The need for students to understand the quantitative basis for biochemical concepts. The Henderson–Hasselbalch equation, the quantitative expressions of thermodynamic laws, and the Michaelis–Menten equation, for example, are not equations to be memorized and forgotten when the course moves on. The basis for these and other quantitative statements must be understood and constantly repeated as biochemical concepts, such as mechanisms of enzyme action, are developed. They are essential to help students grasp the concepts.
Con

tents
The Chemical Foundation of Life: Weak Interactions in an Aqueous Environment
The Energetics of Life
Nucleic Acids
Introduction to Proteins: The Primary Level of Protein Structure
The Three-Dimensional Structure of Proteins
Protein Function and Evolution
Enzymes: Biological Catalysts
Carbohydrates: Sugars, Saccharides, Glycans
Lipids, Membranes, and Cellular Transport
Chemical Logic of Metabolism
Carbohydrate Metabolism: Glycolysis, Gluconeogenesis, Glycogen Metabolism, and the Pentose Phosphate Pathway
The Citric Acid Cycle
Electron Transport, Oxidative Phosphorylation, and Oxygen Metabolism
Photosynthesis
Lipid Metabolism
Interorgan and Intracellular Coordination of Energy Metabolism in Vertebrates
Amino Acid and Nitrogen Metabolism
Nucleotide Metabolism
Mechanisms of Signal Transduction
Genes, Genomes, and Chromosomes
DNA Replication
DNA Repair, Recombination, and Rearrangement
Transcription and Posttranscriptional Processing
Information Decoding: Translation and Posttranslational Protein Processing
Regulation of Gene Expression
Free download Biochemistry: Concepts and Connections (2nd edition) written by Dean R. Appling, Spencer J. Anthony-Cahill and Christopher K. Mathews in pdf from following download links.
Follow these instructions to unlock the download links. Sometimes download link(s) is/are not visible on mobile devices, so if you face this issue, kindly do visit this page via laptop/desktop computer.
Password for Download Links: chemistry.com.pk
File Size: 199 MB. Pages: 934. Download Instructions. Please read Disclaimer.
You may also like to free download
Free Download Hundreds of Best-Selling Chemistry Books from HERE.
P.S: If the download link(s) is/are not working, kindly drop a comment below, so we'll update the download link for you.
Happy downloading!