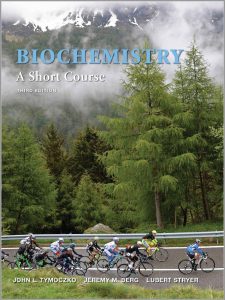 Free download Biochemistry A Short Course (3rd edition) written by John L. Tymoczko, Jeremy M. Berg and Lubert Stryer in pdf.
Of course, much of learning is necessary for survival, and even the simplest organisms learn to avoid danger and recognize food. However, humans are especially gifted in that we also acquire skills and knowledge to make our lives richer and more meaningful.
Many students would agree that reading novels and watching movies enhance the quality of our lives because we can expand our horizons by vicariously being in situations we would never experience, reacting sympathetically or unsympathetically to characters who remind us of ourselves or are very different from anyone we have ever known. Strangely, at least to us as science professors, science courses are rarely thought of as being enriching or insightful into the human condition.
This third edition takes into account recent discoveries and advances that have changed how we think about the fundamental concepts in biochemistry and human health. To meet the needs of instructors and students alike, particular attention has been paid to the topics outlined below.
Expanded Physiological Focus
A hallmark feature of Biochemistry: A Short Course is its physiological perspective on biochemical processes and its integration of clinical examples to apply and reinforce concepts. In the third edition, we build on this aspect of the book with:
• A New section: "Mutations in Genes Encoding Hemoglobin Subunits Can
Result in Disease" (Chapter 9)
• 17 new Clinical Insights, demonstrating the relevance of biochemistry to
human health and disease.
Con

tents

Part I: The Molecular Design of Life
Protein Composition and Structure
Basic Concepts and Kinetics of Enzymes
Carbohydrates and Lipids
Cell Membranes, Channels, Pumps, and Receptors
Part II: Transducing and Storing Energy
Basic Concepts and Design of Metabolism
Glycolysis and Gluconeogenesis
The Citric Acid Cycle
Oxidative Phosphorylation
The Light Reactions of Photosynthesis and the Calvin Cycle
Glycogen Metabolism and the Pentose Phosphate Pathway
Fatty Acid and Lipid Metabolism
The Metabolism of Nitrogen- Containing Molecules
Part III: Synthesizing the Molecules of Life
Nucleic Acid Structure and DNA Replication
RNA Synthesis, Processing, and Regulation
Protein Synthesis and Recombinant DNA Techniques
Free download Biochemistry A Short Course (3rd edition) written by John L. Tymoczko, Jeremy M. Berg and Lubert Stryer in pdf from following download links.
Follow these instructions to unlock the download links. Sometimes download link(s) is/are not visible on mobile devices, so if you face this issue, kindly do visit this page via laptop/desktop computer.
Password for Download Links: chemistry.com.pk
File Size: 55.3 MB. Pages: 900. Download Instructions. Please read Disclaimer.
You may also like to free download
Free Download Hundreds of Best-Selling Chemistry Books from HERE.
P.S: If the download link(s) is/are not working, kindly drop a comment below, so we'll update the download link for you.
Happy downloading!