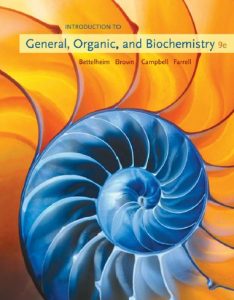 Free download Introduction to General, Organic and Biochemistry (9th Edition) written by Frederick A. Bettelheim, William H. Brown, Mary K. Campbell and Shawn O. Farrell in .pdf published by Brooks/Cole, Cengage Learning in 2010.
According to the authors; The increasing use of our textbook made this new edition possible and we wish to thank our colleagues who adopted the previous editions for their courses. Testimony from colleagues and students indicates that we managed to convey our enthusiasm for the subject to students, who find this book to be a great help in studying difficult concepts.
Therefore, in the new edition we strive further to present an easily readable and understandable text. At the same time we emphasized the inclusion of new relevant concepts and examples in this fast-growing discipline especially in the biochemistry chapters. We maintain an integrated view of chemistry. From the very beginning in the general chemistry part we include organic compounds and biochemical substances to illustrate the principles. The progress is ascension from the simple to the complex. We urge our colleagues to advance to the chapters of biochemistry as fast as possible, because there lies most of the material that is relevant to the future professions of our students.
Dealing with such a giant field in one course, and possibly the only course in which our students get an exposure to chemistry, creates the selection of the material an overarching enterprise. We are aware that even though we tried to keep the book to a manageable size and proportion, we included more topics than could be covered in a two-semester course. Our aim was to give enough material from which the instructor can select the topics he or she deems important. We organized the sections so that each of them can stand independently and, therefore, leaving out sections or even chapters will not cause fundamental cracks in the total edifice.
Con

tents

General Chemistry
Matter, Energy, and Measurement
Atoms
Chemical Bonds
Chemical Reactions
Gases, Liquids, and Solids
Solutions and Colloids
Reaction Rates and Chemical Equilibrium
Acids and Bases
Nuclear Chemistry
Organic Chemistry
Organic Chemistry
Alkanes
Alkenes and Alkynes
Benzene and Its Derivatives
Alcohols, Ethers, and Thiols
Chirality: The Handedness of Molecules
Amines
Aldehydes and Ketones
Carboxylic Acids
Carboxylic Anhydrides, Esters, and Amides
Biochemistry
Carbohydrates
Lipids
Proteins
Enzymes
Chemical Communicators: Neurotransmitters and Hormones
Nucleotides, Nucleic Acids, and Heredity
Gene Expression and Protein Synthesis
Bioenergetics: How the Body Converts Food to Energy
Specific Catabolic Pathways: Carbohydrate, Lipid, and Protein Metabolism
Biosynthetic Pathways
Nutrition
Immunochemistry
Body Fluids
Free download Introduction to General, Organic and Biochemistry (9th Edition) by Bettelheim, Brown, Campbell and Farrell in .pdf from following download links.
Kindly follow the instructions to unlock the download link(s). Sometime download link(s) is/are not visible on mobile devices, so if you face this issue, kindly do visit this page via laptop/desktop computer.
[sociallocker id=1417]
[/sociallocker]
File Size: 33.4 MB. Pages: 967. Kindly read the disclaimer.
Don't forget to drop a comment below after downloading this book. ?
You may also like to download Fundamentals Organic Chemistry (7th edition) written by John McMurry in pdf.
P.S: If the download link(s) is/or not working, kindly drop a comment below so we could update the download link for you.
Happy downloading 🙂