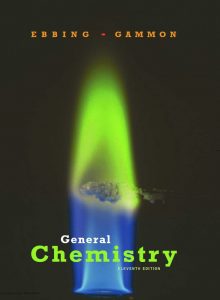 Free download General Chemistry (11th edition) written by Darrell Ebbing and Steven D. Gammon in pdf.
The eleventh edition was carefully reviewed with an eye toward strengthening the content available in OWLv2, end-of-chapter questions, and updating the presentation. Nomenclature changes and the adoption of IUPAC periodic table conventions are highlights of the narrative revisions, along with changes to the discussion of d orbitals. In-text examples have been reformatted to facilitate learning, and the accompanying Interactive Examples in OWLv2 have been redesigned to better parallel the problem-solving approach in the narrative. New Capstone Problems have been added to a number of chapters.
Con

tents
Chemistry and Measurement
Calculations with Chemical Formulas and Equations
Chemical Reactions
The Gaseous State
Thermochemistry
Quantum Theory of the Atom
Electron Configurations and Periodicity
Ionic and Covalent Bonding
Molecular Geometry and Chemical Bonding Theory
States of Matter; Liquids and Solids
Solutions
Rates of Reaction
Chemical Equilibrium
Acids and Bases
Acid–Base Equilibria
Solubility and Complex-Ion Equilibria
Thermodynamics and Equilibrium
Electrochemistry
Chemistry of the Main-Group Elements
The Transition Elements and Coordination Compounds
Polymer Materials: Synthetic and Biological
Free download General Chemistry (11th edition) written by Darrell Ebbing and Steven D. Gammon in pdf from following download links.
Kindly follow these instructions to unlock the download link(s). Sometime download link(s) is/are not visible on mobile devices, so if you face this issue, kindly do visit this page via laptop/desktop computer.
Password for Download Links: chemistry.com.pk
File Size: 160.9 MB. Pages: 1190. Download Instructions. Kindly read the disclaimer.
You may also like to free download:
Free Download Hundreds of Best-Selling Chemistry Books from HERE.
P.S: If the download link(s) is/are not working, kindly drop a comment below, so we'll update the download link for you.
Happy downloading!