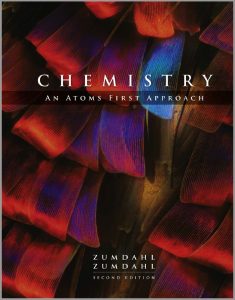 Free download Chemistry An Atoms First Approach (2nd edition) written by Steven S. Zumdahl and Susan A. Zumdahl in pdf published in 2016.
Steve and Susan Zumdahl's texts focus on helping students build critical -thinking skills through the process of becoming independent problem-solvers. They help students learn to think like chemists so they can apply the problem solving process to all aspects of their lives.
In this Second Edition of CHEMISTRY: AN ATOMS FIRST APPROACH, the Zumdahls use a meaningful approach that begins with the atom and proceeds through the concept of molecules, structure, and bonding, to more complex materials and their properties. Because this approach differs from what most students have experienced in high school courses, it encourages them to focus on conceptual learning early in the course, rather than relying on memorization and a plug and chug method of problem solving that even the best students can fall back on when confronted with familiar material. The atoms first organization provides an opportunity for students to use the tools of critical thinkers: to ask questions, to apply rules and models, and to evaluate outcomes.
Considerable effort went into making the second edition of Chemistry: An Atoms First Approach even more focused on the atom. To maintain this emphasis, we added new content (with an atoms first focus) throughout the textbook by revising the core text and adding margin notes, critical thinking.
questions,
Con

tents
Chemical Foundations
Atomic Structure and Periodicity
Bonding: General Concepts
Molecular Structure and Orbitals
Stoichiometry
Types of Chemical Reactions and Solution Stoichiometry
Chemical Energy
Gases
Liquids and Solids
Properties of Solutions
Chemical Kinetics
Chemical Equilibrium
Acids and Bases
Acid-Base Equilibria
Solubility and Complex Ion Equilibria
Spontaneity, Entropy, and Free Energy
Electrochemistry
The Nucleus: A Chemist's View
The Representative Elements
Transition Metals and Coordination Chemistry
Organic and Biological Molecules
Free download Chemistry An Atoms First Approach (2nd edition) written by Steven S. Zumdahl and Susan A. Zumdahl in pdf from following download links.
Kindly follow the instructions to unlock the download link(s). Sometime download link(s) is/are not visible on mobile devices, so if you face this issue, kindly do visit this page via laptop/desktop computer.
Password for Download Links: chemistry.com.pk
File Size: 59.4 MB. Pages: 704. Download Instructions. Kindly read the disclaimer.
You may also like to free download
Free Download Hundreds of Best-Selling Chemistry Books from HERE.
P.S: If the download link(s) is/are not working, kindly drop a comment below, so we'll update the download link for you.
Happy downloading!