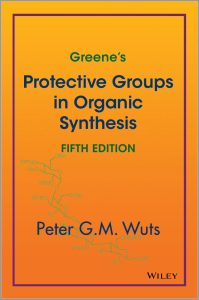 Free download Greene's Protective Groups in Organic Synthesis (5th edition) written by Peter G. M. Wuts in pdf.
The fifth edition continues in the tradition of the previous volumes. The literature search is complete to the middle of 2013, and was done using a hand search where I looked at the individual papers to find appropriate material and by using the search engines provided by the various publishers.
SciFinder was also used to complement my search, by looking for specific information rather than a general search of protective group chemistry as this results in too many hits to examine. Given the ever-expanding literature, it is becoming increasingly more time consuming to maintain the comprehensive tradition of the last four editions. If I have passed over a favorite method or even a new protective group, it was not done intentionally.
During the preparation of this edition, I processed over 4100 new references. Not all have been included because in many cases the examples did not offer anything new. However, approximately 2800 new references have been included in this edition. Overall, I have tried to be as all-inclusive as possible because this book is about giving the user all the available options for protection and deprotection.
Protective group chemistry is largely driven by natural product synthesis, and over the years since the last edition, the emphasis on highly hydroxylated natural products has given way to more alkaloid natural products that tend not to use protective groups as heavily. In fact, there are many syntheses that have avoided the use of protective groups altogether. There are, however, many classes of molecules where our chemical technology is still not adequate to completely avoid the use of protective groups, such as in polypropionate macrolide synthesis, peptide synthesis, and oligonucleotide synthesis.
Con

tents
Protection for the Hydroxyl Group, Including 1,2- and 1,3-Diols
Protection for Phenols and Catechols
Protection for the Carbonyl Group
Protection for the Carboxyl Group
Protection for the Thiol Group
Protection for the Amino Group
Protection for the Alkyne –CH
Protection for the Phosphate Group
Reactivities, Reagents, and Reactivity Charts
Free download Greene's Protective Groups in Organic Synthesis (5th edition) written by Peter G. M. Wuts in pdf from following download links.
Kindly follow these instructions to unlock the download link(s). Sometime download link(s) is/are not visible on mobile devices, so if you face this issue, kindly do visit this page via laptop/desktop computer.
Password for Download Links: chemistry.com.pk
File Size: 28.6 MB. Pages: 1399. Download Instructions. Kindly read the disclaimer.
You can also buy Greene's Protective Groups in Organic Synthesis (5th edition) written by Peter G. M. Wuts from Amazon by Clicking the image below.

You may also like to free download
Free Download Hundreds of Best-Selling Chemistry Books from HERE.
P.S: If the download link(s) is/are not working, kindly drop a comment below, so we'll update the download link for you.
Happy downloading!