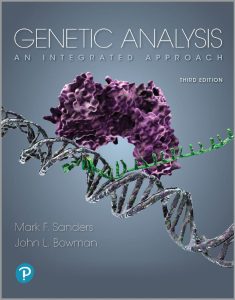 Free download Genetic Analysis: An Integrated Approach (3rd edition) written by Mark F. Sanders and John L. Bowman in pdf.
This third edition, like its predecessors, carries the unique subtitle An Integrated Approach. The phrase embodies our pedagogical approach, consisting of three principles: (1) to integrate problem solving throughout the text—not relegating it to the ends of chapters—and consistently to model a powerful, three-step problem-solving approach (Evaluate, Deduce, and Solve) in every worked example; (2) to integrate an evolutionary perspective throughout the book; and (3) to integrate descriptions of Mendelian genetics with molecular genetics and genomics so as to demonstrate the value of each of these different approaches for investigating the same basic sets of observations. In this edition, we adhere to and strengthen the integration that has resonated strongly with instructors and students.
As was the case in our previous editions, our aim above all is to assist the student by making the learning of genetics easier, more interesting, and more effective. Thus, three specific goals have driven this revision, and each is supported by new features that help accomplish it. Goal 1 is to provide more interesting, real-world applications of genetics.
We have addressed this goal by writing five "Application Chapters" that each highlight a particular applied topic in human genetics. Goal 2 is to make the job of learning the details of genetics easier. We have addressed this goal by writing "Caption Queries" to accompany chapter figures and by providing a new feature, titled "Preparing for Problem Solving," at the end of each chapter.
Goal 3 is to facilitate group work and discussion of genetics problems and concepts among classmates. We have addressed this goal in part through the Caption Queries and in part by providing a new category of chapter problems, called "Collaboration and Discussion," that are specifically designed to be tackled in groups.
Con

tents
Transmission Genetics
Cell Division and Chromosome Heredity
Gene Interaction
Genetic Linkage and Mapping in Eukaryotes
Genetic Analysis and Mapping in Bacteria and Bacteriophages
Application A: Human Hereditary Disease and Genetic Counseling
DNA Structure and Replication
Molecular Biology of Transcription and RNA Processing
Application B: Human Genetic Screening
Eukaryotic Chromosome Abnormalities and Molecular Organization
Gene Mutation, DNA Repair, and Homologous Recombination
Regulation of Gene Expression in Bacteria and Bacteriophage
Regulation of Gene Expression in Eukaryotes
Analysis of Gene Function by Forward Genetics and Reverse Genetics
Application C: The Genetics of Cancer
Recombinant DNA Technology and Its Applications
Genomics: Genetics from a Whole-Genome Perspective
Organellar Inheritance and the Evolution of Organellar Genomes
Developmental Genetics
Genetic Analysis of Quantitative Traits
Population Genetics and Evolution at the Population, Species, and Molecular Levels
Application D: Human Evolutionary Genetics
Application E: Forensic Genetics
Free download Genetic Analysis: An Integrated Approach (3rd edition) written by Mark F. Sanders and John L. Bowman in pdf from following download links.
Kindly follow these instructions to unlock the download link(s). Sometime download link(s) is/are not visible on mobile devices, so if you face this issue, kindly do visit this page via laptop/desktop computer.
Password for Download Links: chemistry.com.pk
File Size: 119 MB. Pages: 901. Download Instructions. Kindly read the disclaimer.
You can also buy Genetic Analysis: An Integrated Approach (3rd edition) written by Mark F. Sanders and John L. Bowman from Amazon by Clicking the image below.

You may also like to free download
Free Download Hundreds of Best-Selling Chemistry Books from HERE.
P.S: If the download link(s) is/are not working, kindly drop a comment below, so we'll update the download link for you.
Happy downloading!